The Tyler Durden Test
Their result for The Tyler Durden Test ...
Fight Club member...
You scored 71% fight club philosophy...!
You have seen the movie, or heard the soundtrack... you understand what tyler is all about... Remember... the first rule of fight club is that we don't talk about fight club. which obviously didn't happen.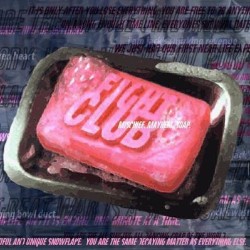 Their Analysis
(Vertical line = Average)
They scored 71% on fight club, higher than 26% of your peers.
All possible test results
I would highly recommend seeing the movie, or at listening to the soundtrack by the Dust Brothers... it may open your eyes and / or change your life... Read more
You, my friend... were left on the porch for so long that you left... if you have no idea what i'm talking about, see the movie. If you have some idea... don't worry. Probably one too many left hooks... Read more
You have seen the movie, or heard the soundtrack... you understand what tyler is all about... Remember... the first rule of fight club is that we don't talk about fight club. which obviously didn't ... Read more
You and Tyler are best friends... good job. don't you think Helena Bonham Carter is hot? Read more
Take this test »