Attack of The ZAAD!
Their result for Attack of The ZAAD! ...
The Headless Chicken
You died, most others are dead, and the infrastructure has been destroyed.
While some of your choices might of, indirectly, helped save a few lives...it was pure luck. Combat instinctive, leadership, or survival themed behavior tends to follow people through most situations. You did what a survivor would do here, you did what a leader should do there, etc. Granted, some situations call for a mixture but not this one. To win, someone needed to take the bull by the horns. To minimize the destruction, a leader needed to save lives and become more directly involved. To survive, you should of been more frequently selfish. You're the jack of all trades and master of being dead.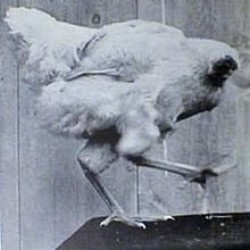 Their Analysis
(Vertical line = Average)
They scored 3% on Instinct, higher than 88% of your peers.

They scored 1% on Leadership, higher than 40% of your peers.

They scored 1% on Survival, higher than 31% of your peers.
All possible test results
It was either them or you. The fact of the matter is, selfish people tend to survive. Look on the bright side, you have lived to fight another day. Probably to get your butt kicked. When in dan... Read more
Your sacrifice did not come without purpose. While The Zaad continues its intercontinental onslaught, your actions ended up saving lives. During the start, you quickly ascertained the situati... Read more
You have saved the world Agent Endgame. While The Zaad is not dead, it has retreated far into space. There is no need to go over all the choices here. Why? Because they were not merely choice... Read more
While some of your choices might of, indirectly, helped save a few lives...it was pure luck. Combat instinctive, leadership, or survival themed behavior tends to follow people through most s... Read more
Take this test »