The Firefly Character Personality Test
RIVER: Fugitive
Congratulations, you are River!!!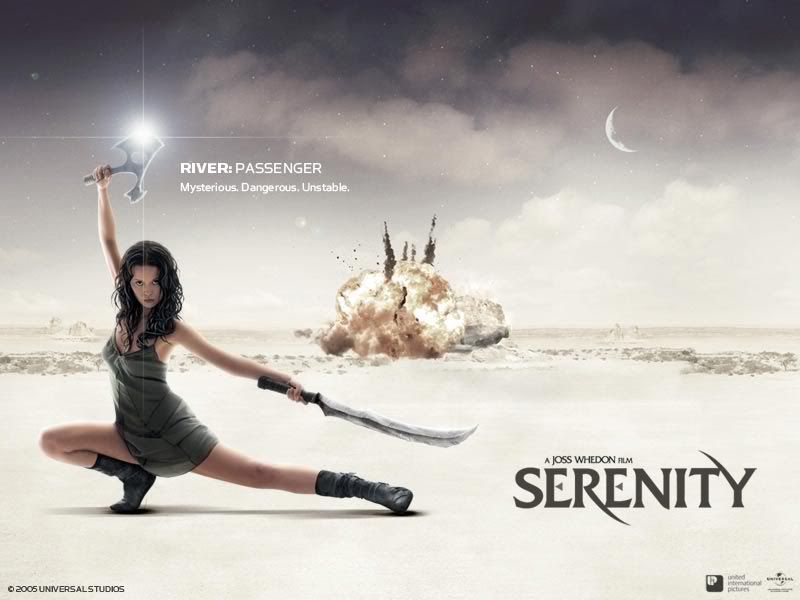 River is the ship's resident psychic and genius, among other things. She is a mental telepathist, and also appears to be somewhat clairvoyant.
She has a tendency to speak not only what is on her own mind (which is often overlooked as gibberish), but others' as well. She is able to use other people's minds as a weapon against themselves.
She is a fugitive who was secretly brought on board by her brother Simon. She is forever running from the "Blue Sun" group - a heavily funded top-secret Alliance initiative, so secret that even if Alliance personel get a hint of their presence, they are immediately annihlated.
River possesses powers that are a threat not only to the forces pursuing her but also to the Serenity crew, who have given her sanctuary.
River is extremely graceful and loves to dance. Something she picked up on very, very quickly.
Simon also says lovingly, that she is somewhat of a "brat".
Before being rescued by her brother, Dr. Simon Tam, she spent years enduring experiments in an Alliance lab, after she was willingly sent to the Academy by her highly suspiscious parents. The experience has left her forever altered.
Now she is plagued by chilling and confusing dreams and recounts of places and people she can't remember - or is to scared to revisit at all. She is undoubtedly a genius of sorts, but one who is tortured by her own intellect.
In addition to her heightened mental abilities, she is also preternaturally dexterous and highly skilled in martial arts and weapons combat. However, these gifts appear infrequently; most of the time she swings between catatonia and manic, gibbering fits.
River is often unpredictable and chaotic in her bahaviour.
But when she completely focuses her mental energy on something.. "No power in the 'verse can stop me!"
Other Possible Results...
KAYLEE: Mechanic
WASH: Pilot
INARA: Ambassador
SIMON: Doctor
JAYNE: Mercenary
ZOE: Soldier
RIVER: Fugitive
MAL: Captain
SAFFRON
THE OPERATIVE
SHEPHERD
All possible test results
Congratulations, you are Kaylee!!! Kaylee... Read more
Congratulations, you are Wash!!! Wash is Ser... Read more
Congratulations, you are Kaylee!!! Kaylee... Read more
Congratulations, you are Inara!!! A licens... Read more
Congratulations, you are Simon!!! img src="http://i12.photobucket.com/albums/a216/catdog875woo/firefly-wallpaper-simon-0800x600_si.jpg" alt="Image hosted by Simon... Read more
Congratulations, you are Inara!!! A licens... Read more
Congratulations, you are Jayne!!! A tough ... Read more
Congratulations, you are Jayne!!! A tough ... Read more
Congratulations, you are Wash!!! Wash is Ser... Read more
Congratulations, you are Shepherd!!! Bo... Read more
Congratulations, you are Shepherd!!! Bo... Read more
Congratulations, you are River!!! River is... Read more
Congratulations, you are Jayne!!! A tough ... Read more
Congratulations, you are Jayne!!! A tough ... Read more
Congratulations, you are Zoë!!! Mal's second-in-c... Read more
Congratulations, you are Zoë!!! Mal's second-in-c... Read more
Congratulations, you are The Operative!!! img src="http://i12.photobucket.com/albums/a216/catdog875woo/firefly-serenity-movie-good-quality.jpg" alt="The Operative... Read more
Congratulations, you are River!!! River is... Read more
Congratulations, you are Mal!!! During the wa... Read more
Congratulations, you are Mal!!! During the wa... Read more
Congratulations, you are Mal!!! During the wa... Read more
Congratulations, you are Saffron!!! Saffron is an ex-comp... Read more
Congratulations, you are The Operative!!! img src="http://i12.photobucket.com/albums/a216/catdog875woo/firefly-serenity-movie-good-quality.jpg" alt="The Operative... Read more
Congratulations, you are Saffron!!! Saffron is an ex-comp... Read more
Take this test »
Recent Results
Tests others are taking