The Firefly Character Personality Test
Their result for The Firefly Character Personality Test ...
SIMON: Doctor
You scored 30% roughness, 80% intelligence, and 67% isolated!
Congratulations, you are Simon!!!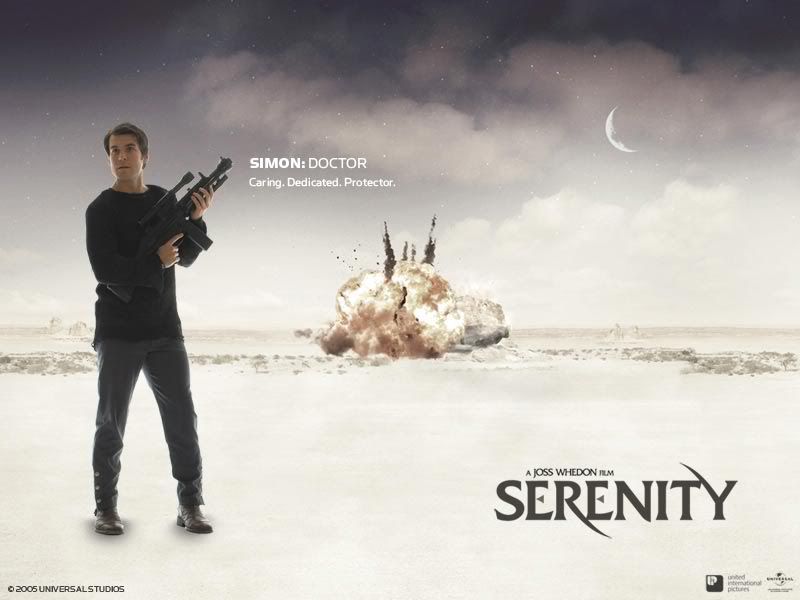 Simon was one of the finest doctors on his home planet Osiris, leading a somewhat 'priveleged' life in what now seems like a distant dream of his youth. His ambitious parents sent his gifted younger sister, River, to the Academy, an exclusive school where she could learn with other brilliant children... or so they said.
He grew concerned when he didn't hear from River for months — and then he suddenly received letters from her that seemed to be nonsense, but were in fact written in a code that said that she was being hurt. Against the wishes of his parents, and exhausting his entire personal fortune and damaging his medical reputation, Simon broke River out of the Academy and travelled to Persephone, where he booked passage on the Serenity.
Simon and River are both fugitives from the Alliance. Mal has agreed to let them stay aboard the Serenity, chiefly because Simon's medical skills are sorely needed by the crew.
Simon is very intelligent, but unfortunately when it comes to romance.. he's somewhat inexperienced. He has an increasingly obvious interest in Kaylee but is unsure of how to express his feelings to her. Because he has never had a chance to be selfish while caring for River, he finds it hard to look in to himself and find what he wants, and to express that in words.
He spends most of his time caring for, and trying to 'fix' River's troubled mind.
Simon would give anything to see his little sister the way she used to be, once again.
Other Possible Results...
KAYLEE: Mechanic
WASH: Pilot
INARA: Ambassador
SIMON: Doctor
JAYNE: Mercenary
ZOE: Soldier
RIVER: Fugitive
MAL: Captain
SAFFRON
THE OPERATIVE
SHEPHERD
Their Analysis
(Vertical line = Average)
They scored 30% on roughness, higher than 2% of your peers.

They scored 80% on intelligence, higher than 69% of your peers.

They scored 67% on isolated, higher than 73% of your peers.
All possible test results
Congratulations, you are Kaylee!!! Kaylee... Read more
Congratulations, you are Wash!!! Wash is Ser... Read more
Congratulations, you are Kaylee!!! Kaylee... Read more
Congratulations, you are Inara!!! A licens... Read more
Congratulations, you are Simon!!! img src="http://i12.photobucket.com/albums/a216/catdog875woo/firefly-wallpaper-simon-0800x600_si.jpg" alt="Image hosted by Simon... Read more
Congratulations, you are Inara!!! A licens... Read more
Congratulations, you are Jayne!!! A tough ... Read more
Congratulations, you are Jayne!!! A tough ... Read more
Congratulations, you are Wash!!! Wash is Ser... Read more
Congratulations, you are Shepherd!!! Bo... Read more
Congratulations, you are Shepherd!!! Bo... Read more
Congratulations, you are River!!! River is... Read more
Congratulations, you are Jayne!!! A tough ... Read more
Congratulations, you are Jayne!!! A tough ... Read more
Congratulations, you are Zoë!!! Mal's second-in-c... Read more
Congratulations, you are Zoë!!! Mal's second-in-c... Read more
Congratulations, you are The Operative!!! img src="http://i12.photobucket.com/albums/a216/catdog875woo/firefly-serenity-movie-good-quality.jpg" alt="The Operative... Read more
Congratulations, you are River!!! River is... Read more
Congratulations, you are Mal!!! During the wa... Read more
Congratulations, you are Mal!!! During the wa... Read more
Congratulations, you are Mal!!! During the wa... Read more
Congratulations, you are Saffron!!! Saffron is an ex-comp... Read more
Congratulations, you are The Operative!!! img src="http://i12.photobucket.com/albums/a216/catdog875woo/firefly-serenity-movie-good-quality.jpg" alt="The Operative... Read more
Congratulations, you are Saffron!!! Saffron is an ex-comp... Read more
Take this test »
Recent Results
Tests others are taking