The Super Ultimate Simpsons Test
Their result for The Super Ultimate Simpsons Test ...
Simpsons Super God
You scored 83 Geekiness!
You consider Matt Groening's hometown equal to or better than Graceland, own quite a few Simpson seasons on DVD (possibly in different DVD regions), and have lost at least one or more signifcant others in your pursuit of all things Simpsons...don't worry, they weren't good enough for you in the first place.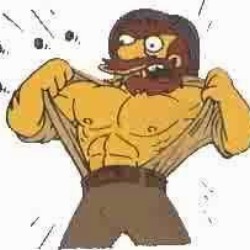 Their Analysis
(Vertical line = Average)
They scored 83% on Geekiness, higher than 95% of your peers.
All possible test results
Have you been living in a cave? I bet you've heard of the Simpsons, even if you can't pronounce it...FOR SHAME! Read more
I'm sure the only reason you didn't score higher is because you have more important things to do with your time...Blah blah blah. Read more
You just might scream at people if you miss an episode of the Simpsons and attest the first few season as the best, because the producers sold out after too long...Good for you. Read more
You just may have skipped meal in between comic book conventions to watch reruns of the Simpsons, use Simpsons quotes in everyday situations, and consider Troy McClure the only star in your skies. Read more
You consider Matt Groening's hometown equal to or better than Graceland, own quite a few Simpson seasons on DVD (possibly in different DVD regions), and have lost at least one or more signifcant other... Read more
Take this test »