The Broadscale Political View Test
Their result for The Broadscale Political View Test ...
Communist
77% , Distribution of Power 85% Distribution of Capital
You believe in a large distribution of state power and an even larger distribution of capital, which correlates with Marxist doctrine. Communists believe in an egalitarian society, controlled by workers, first through a transitional socialist phase in which a proletarian government equalizes society and helps break the bourgeois paradigms, and then the communist phase in which there is no state but only the cooperation of communities.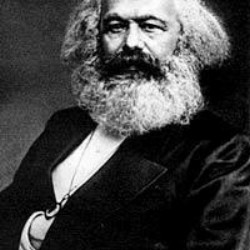 Their Analysis
(Vertical line = Average)
They scored 77% on P Dist, higher than 89% of your peers.

They scored 85% on E Dist, higher than 86% of your peers.
All possible test results
You appear to believe near or total concentration of both wealth and power. This would likely mean you believe in monarchy, fascism, oligarchy, or a deviation of socialism that doesn't actually have a... Read more
You believe in heavily concentrated power, but you also do have some belief in fairness. This leads me to think you believe in an ideal form of monarchy or aristocracy where the edjucated do all the t... Read more
You don't seem to really think people should have any say, but it seems you do have good intentions. My best guess is your beliefs are probably similar to Plato's. You probably believe in a philos... Read more
You belive in economic egalitarianism, but when it comes to politics, you don't have any plans on loosening that iron grip. While many of your beliefs have a relation to Marxist doctrine, a lo... Read more
Your polital views are somewhat balanced, whereas economically you seem to believe in almost total consolidation. A government somewhere between a republic and an oligarchy and a wealth gap bigger... Read more
You believe in a non-democratic but balanced form of government and a mixed economy with probably some form of aid for those in need. Thus, I think it's a good guess you believe in the republic, t... Read more
You believe in a not-quite egalitarian form of government, but with some degree of economic egalitarianism. It's likely you side with the Democrats in America, Labour party in England, or similar grou... Read more
Your thoughts on politics aren't entirely egalitarian, but your views on economics definitely are. This probably means you are a socialist. You believe in a labor-theory of value and the need for ... Read more
You believe in a very mainstream republic/constitutional indirect democracy, but you also advocate laissez-faire economics and huge divisions of wealth. Thus, my best guess is that you are a conse... Read more
You are the norm. You appear to believe in a mixed economy and probably an indirect democracy. Read more
You believe in a balanced democratic government with a mixed economy. While not going so far as to be a socialist, you do believe the government should act to ensure fairness and safeguards in economi... Read more
You are a democratic socialst. You believe in socialist philosophy of providing economic equality for all citizens, but through democratic systems and peacefull influence rather than proletarian revol... Read more
You believe in very little state power and in no attempts at regulating the market or personal wealth. It's your view that with a minimal amount of help from the state, if things are left to themselve... Read more
You believe in government only to the bare minimum by which you feel it is necessary. You feel it's the government's role to prevent theft, violent crime, ect., but huge government spending and consol... Read more
You appear to believe in true democracy. While democracy is seemingly the world's most prolific form of government, most countries are argueably not democracies in any strict sense, as they are almost... Read more
You believe in a large distribution of state power and an even larger distribution of capital, which correlates with Marxist doctrine. Communists believe in an egalitarian society, controlled by worke... Read more
Your view on government is that there shouldn't be any. Contrary to popular belief, this usually does not mean advocating disorder, but rather using communities and direct democracy to maintain order. Read more
Your view on government is that there shouldn't be any. Contrary to popular belief, this usually does not mean advocating disorder, but rather using communities and direct democracy to maintain order. Read more
Your view on government is that there shouldn't be any. Contrary to popular belief, this usually does not mean advocating disorder, but rather using communities and direct democracy to maintain order. Read more
Very close to regular Marxism, you believe in abolishing the state and private ownership of the means of production and creating a classless society operated by collectives and direct democracy. Read more
Take this test »
Recent Results
Tests others are taking