The Chubby Questionaire
Their result for The Chubby Questionaire ...
The SLIGHTLY Chubby Chick
Hey your still cute! Dont worry!
You are the Slightly Chubby Chick. Dont worry that just means you have a little more to love and honestly guys like a little T and A. If your insecure about it downplay your body and up play your good facial features and personality traits.
In short. I wouldnt worry about it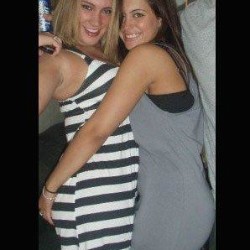 Their Analysis
(Vertical line = Average)
They scored 5% on Chubby, higher than 71% of your peers.
All possible test results
You need to start that diet and excerize program ASAP honey! Read more
To many late night taco bell runs and lack of excersize have given you that extra layer of chub. Its okay there is always treadmills and celery. You probably only have to lose about 10 lbs ... Read more
Soo...your body is nice. Good for you haha. Now go out there and work it! Read more
You are the Slightly Chubby Chick. Dont worry that just means you have a little more to love and honestly guys like a little T and A. If your insecure about it downplay your body and up play yo... Read more
You eat right, get compliments on your body, and excersize! Well it paid off you are officially smokin hott! Read more
Take this test »