The criminality Test
Their result for The criminality Test ...
The Permadolescent
Your Criminality Percentage: ###!
Whether you're 16 or 76, you're most likely locked in adolescence in some very key respects. You're likely to bitch about the world in general, and blame other people for stuff that happens to you. Then again, maybe you do take responsibility, but you're unfortunately cursed with a streak of impulsiveness or maybe adhere to a rocky self-image. You've probably got a fiesty temper too. That's alright because some people find that sort of thing very appealing. People like to have a little spice on the menu. You could be seen driving your car too fast, running stop signs ... You're probably one of those people who would hang out at the gravel pit, fill things with gasoline, and then blow them up. If you're more sophisticated, you might content yourself with other risky behavior. You just watch it, though. You one of those people insurance companies call "high-risk." Actuaries have night sweats wondering what people like you might do next.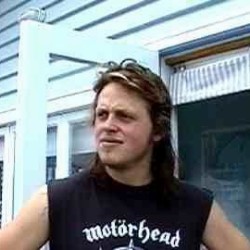 Their Analysis
(Vertical line = Average)
They scored 28% on criminality, higher than 65% of your peers.
All possible test results
You possess such calm in the face of adversity and such a responsible outlook upon society that it's really hard to believe that your answered the test honestly... I mean, not to insult your unbrea... Read more
You're the person everyone would like to have in the neighborhood. You'd call the cops if something was amiss. You obey the rules, because they work out well for you - you probably have a strong str... Read more
Whether you're 16 or 76, you're most likely locked in adolescence in some very key respects. You're likely to bitch about the world in general, and blame other people for stuff that happens to you. ... Read more
We hate to break this to you, but your responses show such a strong appetite for destruction that you should probably be jailed on general principle. Fortunately for you, we have a little thin... Read more
You're screaming along the edge of utter and total disgust for the rules of society, and you probably do a lot of screaming too. You're probably pretty volatile and impulsive. If you bump your head ... Read more
We probably should have omitted this category altogether, I mean, if you scored this high you were probably spawned rather than born. To do this well on the test you'd have to be not only impulsive, ... Read more
Take this test »