The Inner Child Test
Their result for The Inner Child Test ...
Adolescent
--------------------
We are a social species and are therefore often more concerned with the way things look than the way they are. By acting slightly older than you feel, you're establishing a pattern of dissatisfaction and insecurity, which will likely chase you to the grave. That said, we are a social species, and looking good will always win you favor.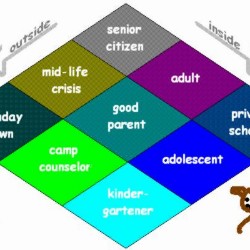 Their Analysis
(Vertical line = Average)
They scored 19% on play, higher than 41% of your peers.

They scored 21% on heart, higher than 54% of your peers.
All possible test results
Old. Inside and out. Unattached, unaware, unimpressed. Numerous scientific studies have discovered that the physical act of smiling can lead to feelings of happiness. Might want to watch out for t... Read more
Eh. Pat yourself on the back, John Q. Public. You're normal, and that's just how you like it. One day you started copying your parents and just forgot to stop. You act serious, responsible - nothi... Read more
Your inner child is trapped! Maybe everyone around you acts grown-up or maybe you feel responsible for everyone else. Either way, it's not going to work if you drive yourself crazy. Free your inner... Read more
You wake up and there it is - Death. "Hello," it says. "Quick, quick," you think, "What do children do?" And off you go. Distracted by your antics, you probably never realize that what you're real... Read more
Congratulations. You've managed to avoid the pitfalls of social stigma and reach an enviable balance between childhood and adulthood. This will not only make you a good parent to your offspring, it ... Read more
We are a social species and are therefore often more concerned with the way things look than the way they are. By acting slightly older than you feel, you're establishing a pattern of dissatisfaction... Read more
When it comes to human nature, disparities between the way someone acts and the way they think are often disturbing. You may be bouncing on the bed, but you're mentally balancing your checkbook. Wha... Read more
It could be nostalgia. It could be habit. It could be an established role in your family or occupation. But whichever it is, it's definitely fear of responsibility. This is not as bad as it sounds... Read more
"Inner child?" you ask, "Is that like having a baby?" You are your inner child. And it grants you simple, honest emotions which can, ironically, make you feel more mature. On the other hand, you ar... Read more
Take this test »
Recent Results
Tests others are taking