The Irritability (aka Anger Mgmt) Test
Their result for The Irritability (aka Anger Mgmt) Test ...
The Proverbial Duck
You scored 21% Temper and 17% Control Issues!
Nothing gets to you - you are the proverbial duck, where everything rolls off your back. Congratulations! Be aware, though, that some people might take your comfort with some of the situations that I asked about to mean that you don't care at all. Be sure that the people you care about know you care, and that you don't need to get angry or jealous to prove it. Don't forget to rate my test. Thanks!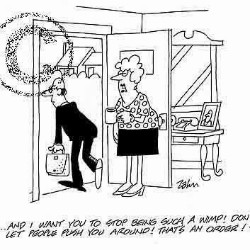 Their Analysis
(Vertical line = Average)
They scored 21% on Irritability, higher than 8% of your peers.

They scored 17% on Control Issues, higher than 28% of your peers.
All possible test results
Nothing gets to you - you are the proverbial duck, where everything rolls off your back. Congratulations! Be aware, though, that some people might take your comfort with some of the situations that... Read more
Nothing gets to you - you are the proverbial duck, where everything rolls off your back. Congratulations! Be aware, though, that some people might take your comfort with some of the situations that... Read more
You are very even tempered. You might have a bit of a temper, but you are aware of it and try to control it. Good for you! No one likes a push over, either. You display a good blend of assertivenes... Read more
You are very even tempered. You might have a bit of a temper, but you are aware of it and try to control it. Good for you! No one likes a push over, either. However, you seem to have control or jea... Read more
You are like a cast over day. The people around you aren't really sure if you're going to storm on them at any given time. You might want to consider doing some light reading on anger management, or... Read more
You are like a thunderstorm, striking out randomly, or at least it appears that way to others. You might want to consider doing some light reading on anger management, or just be a little more aware ... Read more
Yikes... I don't know where all your anger comes from, but you should probably find out and do something about it. Anger management classes might be a step in the right direction. Read more
Not only are you hot-headed, you are a control freak who is threatened by things that don't go your way. You have issues, my friend. Consider some Anger management classes or a support group. Read more
Take this test »
Recent Results

SkyVII20 / f / Gay

ixpnin29 / m / Straight
Tests others are taking