The What's your Drug-IQ? Test
Their result for The What's your Drug-IQ? Test ...
Paint Huffer
Like, whoa! Your Drug IQ is 27, man. The highest is 80.
You have earned the title of: Paint Huffer!
This means that you lost about as many points as you scored. It seems that you have a very limited understanding of drugs, their usage, and their implications on society & the world. Many Paint Huffers have succumbed to some untrue drug war propaganda, or to some bad urban legends. The likelihood of this really doesn't depend on whether you are a user or not!

If you are using: Consider that most people killed by drugs died because of bad information! You might also consider this test result as a sign to stop using. If you haven't yet suffered the consequences of misusing drugs, you are very likely to suffer some of them later in life. So either quit that shit, or at least do some heavy research on the drugs you use, before it's too late.

Non-users: Those of you that receive this result seem to be curious about a world in which you really are unable to relate to. Should you choose to experiment with altering your state of consciousness, understand that you are taking a significant risk. Do the research instead of believing the hype. Or just find something else to be curious about, and stay clean - because people like you are better off that way.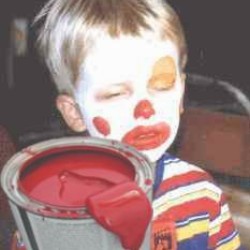 Their Analysis
(Vertical line = Average)
They scored 27% on dopeiq, higher than 77% of your peers.
All possible test results
You won the title of "O.D. Simpson"! You got this result because you lost alot more points than you scored! This indicates that you have no accurate understanding whatsoever of drugs, and you ... Read more
You have earned the title of: Paint Huffer! This means that you lost about as many points as you scored. It seems that you have a very limited understanding of drugs, their usage, and their imp... Read more
You have achieved the status of: Hippy Trash! You have an average, or slightly better than average education of drugs and their impact on people's lives. However, you may not have a strong gra... Read more
You have achieved the title of: Cheech! Good job, ya Cheech! You have a much greater knowledge than others do of drugs and drug-related issues, which may include personal experiences with drug pr... Read more
You are - Dr. Feelgood. Whether you are using or not, you have attained a rare level of understanding in both the physical and emotional effects of drugs. Chances are, you usually keep a ful... Read more
Take this test »