Which Dwarf from The Hobbit are you?
Their result for Which Dwarf from The Hobbit are you? ...
Fili
53% Extroversion, 53% Intuition, 66% Attachment and 31% Organisation!
Congratulations, you are most like FILI, elder brother to Kili and nephew to Thorin Oakenshield, and a member of the royal line of Durin. Fili and his brother set out with little idea of what lay ahead of them, hungering for adventure. You tend to get easily bored by repetitive and mundane tasks and are therefore eager to seek out new experiences. A strong individualistic streak implores you to experience significant events and meet new people yourself, rather than living through the recounts of others. Personal freedom and the ability to follow where-ever inspiration leads is of great importance to you. You have a contagious enthusiasm about the causes you invest yourself in, which are usually orientated around enhancement of good for humanity, or advancement of humanitarian and social issues.
You are cheerful, energetic, and outgoing. When sharing your views you become very animated and use your wit, humour and skilled mastery of language to communicate effectively and win over your peers. You have good people skills with an adept intuition of other people's emotions, able to read what's hidden and see significance in their actions. These qualities are attractive to others and they enjoy being in your company. Imaginative and original, you love focusing on new ideas and new potentials, and have a wide range in interests. The pursuit of happiness is of high priority to you, for both yourself and others.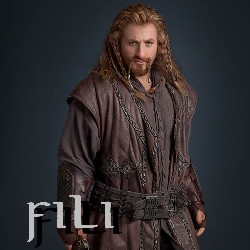 Their Analysis
(Vertical line = Average)
They scored 53% on Extroversion, higher than 73% of your peers.

They scored 53% on Intuition, higher than 30% of your peers.

They scored 66% on Attachment, higher than 89% of your peers.

They scored 31% on Organisation, higher than 10% of your peers.
All possible test results
Congratulations, you are most like THORIN OAKENSHIELD, leader of the Company of Dwarves and heir to the lost throne of Erebor. You are a charismatic and strategic leader, mot... Read more
Congratulations, you are most like BALIN, oldest and wisest of the Company, and much revered amongst Dwarvedom nobility for... Read more
Congratulations, you are most like DWALIN, brother of Balin, and second in command in the Company of Thorin Oakenshield. Dwalin is a renowned warrior and proficient with weap... Read more
Congratulations, you are most like OIN, brother to Gloin, and a member of the Company of Thorin Oakenshield. Oin joined thi... Read more
  Congratulations, you are most like GLOIN, brother of Oin and fathe... Read more
Congratulations you are most like BIFUR. One of the few dwarves in the Company not related to Thorin, Bifur is a cousin to Bofur and Bombur. Bifur is limited to communicating... Read more
Congratulations, you are most like BOFUR, brother to Bombur and cousin to Bifur, and member of the Company of Thorin Oakenshield. Endearing and vivacious, you are a charismat... Read more
Congratulations, you are most like BOMBUR, brother to Bofur and cousin to Bifur, and chief cook for the Company. You are a committed and responsible person in all aspects of ... Read more
Congratulations, you are most like ORI, younger brother to Nori and Dori, and scribe for the Company, chronicling the Quest to the Lonely Mountain. Ori is a talented artist; ... Read more
Congratulations, you are most like NORI, estranged brother to Dori and Ori, and member of the Company of Thorin Oakenshield. After getting into a bit of trouble with the dwar... Read more
Congratulations, you are most like DORI, elder brother to Nori and Ori, and member of the Company of Thorin Oakenshield. Dori spends most of his time looking out for the rest... Read more
Congratulations, you are most like FILI, elder brother to Kili and nephew to Thorin Oakenshield, and a member of the royal line of Durin. Fili and his brother set out with li... Read more
Congratulations, you are most like KILI, younger brother to Fili and nephew to Thorin Oakenshield, and a member of the royal line of Durin. Young and physically able, Kili'... Read more
Take this test »
Recent Results
Tests others are taking