Which Dwarf from The Hobbit are you?
Their result for Which Dwarf from The Hobbit are you? ...
Gloin
63% Extroversion, 50% Intuition, 47% Attachment and 69% Organisation!
Congratulations, you are most like GLOIN, brother of Oin and father to Gimli of later fame in the Fellowship of the Ring. Out of Thorin Oakenshield's company, Gloin is the most outspoken and opinionated. You value facts and evidence over speculation, and will stand by what you believe in. You believe that gathering information on what has happened in the past, how it was righted previously, and doing things the tried and tested way is the best method to solve problems in the present. You like to get things done in an effective, systematic and methodical way, no messing about. Your sense of certainty and forward speaking manner makes you quick to communicate you expectations and opinions. Your frankness and forthrightness can be mistaken for arrogance.
Gloin is very loyal to the Company. He is also the only married Dwarf amongst them, and with a shortage of female dwarves in general, this is a sign of his dedication and faithfulness. You take all your obligations in you work and social life very seriously. Your hard work often pays off in reaching your goals, furthering your position within your organisation, and strengthening your bonds between friends and family. You are fiercely faithful to any endeavours you commit yourself to, and will defend the values of any groups you belong to. You are somewhat traditional in enjoying customs such as weddings and holiday observation, and upholding cultural and family traditions.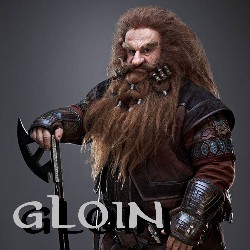 Their Analysis
(Vertical line = Average)
They scored 63% on Extroversion, higher than 88% of your peers.

They scored 50% on Intuition, higher than 23% of your peers.

They scored 47% on Attachment, higher than 42% of your peers.

They scored 69% on Organisation, higher than 84% of your peers.
All possible test results
Congratulations, you are most like THORIN OAKENSHIELD, leader of the Company of Dwarves and heir to the lost throne of Erebor. You are a charismatic and strategic leader, mot... Read more
Congratulations, you are most like BALIN, oldest and wisest of the Company, and much revered amongst Dwarvedom nobility for... Read more
Congratulations, you are most like DWALIN, brother of Balin, and second in command in the Company of Thorin Oakenshield. Dwalin is a renowned warrior and proficient with weap... Read more
Congratulations, you are most like OIN, brother to Gloin, and a member of the Company of Thorin Oakenshield. Oin joined thi... Read more
  Congratulations, you are most like GLOIN, brother of Oin and fathe... Read more
Congratulations you are most like BIFUR. One of the few dwarves in the Company not related to Thorin, Bifur is a cousin to Bofur and Bombur. Bifur is limited to communicating... Read more
Congratulations, you are most like BOFUR, brother to Bombur and cousin to Bifur, and member of the Company of Thorin Oakenshield. Endearing and vivacious, you are a charismat... Read more
Congratulations, you are most like BOMBUR, brother to Bofur and cousin to Bifur, and chief cook for the Company. You are a committed and responsible person in all aspects of ... Read more
Congratulations, you are most like ORI, younger brother to Nori and Dori, and scribe for the Company, chronicling the Quest to the Lonely Mountain. Ori is a talented artist; ... Read more
Congratulations, you are most like NORI, estranged brother to Dori and Ori, and member of the Company of Thorin Oakenshield. After getting into a bit of trouble with the dwar... Read more
Congratulations, you are most like DORI, elder brother to Nori and Ori, and member of the Company of Thorin Oakenshield. Dori spends most of his time looking out for the rest... Read more
Congratulations, you are most like FILI, elder brother to Kili and nephew to Thorin Oakenshield, and a member of the royal line of Durin. Fili and his brother set out with li... Read more
Congratulations, you are most like KILI, younger brother to Fili and nephew to Thorin Oakenshield, and a member of the royal line of Durin. Young and physically able, Kili'... Read more
Take this test »
Recent Results
Tests others are taking