Which Dwarf from The Hobbit are you?
Their result for Which Dwarf from The Hobbit are you? ...
Bifur
31% Extroversion, 63% Intuition, 38% Attachment and 19% Organisation!
Congratulations you are most like BIFUR. One of the few dwarves in the Company not related to Thorin, Bifur is a cousin to Bofur and Bombur. Bifur is limited to communicating in grunts and gestures due to the rusting remains of an Orc axe embedded in his head, and occasionally becomes a bit feisty. You too are somewhat less articulate than your pairs. Most of your time is spent deeply absorbed in thought questioning all the 'if's and 'why's of the world, seemingly oblivious to what's occurring in your immediate surroundings. People can find you to be quiet and difficult to get to know, sometimes mistaking it for arrogance. You enjoy engaging in debate to share and develop your thoughts.
As a sequelae of living with an axe in his head, Bifur has become more open-minded to trying new possibilities; silverbeet over a campfire anyone? You love finding new solutions to intellectual problems, and never do anything the same way twice. You always question the norms and rarely adhere to protocols which are done only for the sake of tradition, or because they've been done in that manner in the past. Nonconformist and unconventional, you like to find your own method of doing things rather than following the crowd and rarely judge others for their choices. Your ingenuity means you rarely plan in advance and like to throw yourself into new challenges and adapt as you go.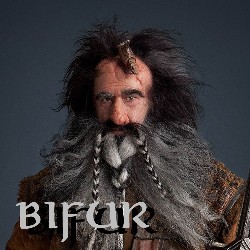 Their Analysis
(Vertical line = Average)
They scored 31% on Extroversion, higher than 26% of your peers.

They scored 63% on Intuition, higher than 55% of your peers.

They scored 38% on Attachment, higher than 20% of your peers.

They scored 19% on Organisation, higher than 4% of your peers.
All possible test results
Congratulations, you are most like THORIN OAKENSHIELD, leader of the Company of Dwarves and heir to the lost throne of Erebor. You are a charismatic and strategic leader, mot... Read more
Congratulations, you are most like BALIN, oldest and wisest of the Company, and much revered amongst Dwarvedom nobility for... Read more
Congratulations, you are most like DWALIN, brother of Balin, and second in command in the Company of Thorin Oakenshield. Dwalin is a renowned warrior and proficient with weap... Read more
Congratulations, you are most like OIN, brother to Gloin, and a member of the Company of Thorin Oakenshield. Oin joined thi... Read more
  Congratulations, you are most like GLOIN, brother of Oin and fathe... Read more
Congratulations you are most like BIFUR. One of the few dwarves in the Company not related to Thorin, Bifur is a cousin to Bofur and Bombur. Bifur is limited to communicating... Read more
Congratulations, you are most like BOFUR, brother to Bombur and cousin to Bifur, and member of the Company of Thorin Oakenshield. Endearing and vivacious, you are a charismat... Read more
Congratulations, you are most like BOMBUR, brother to Bofur and cousin to Bifur, and chief cook for the Company. You are a committed and responsible person in all aspects of ... Read more
Congratulations, you are most like ORI, younger brother to Nori and Dori, and scribe for the Company, chronicling the Quest to the Lonely Mountain. Ori is a talented artist; ... Read more
Congratulations, you are most like NORI, estranged brother to Dori and Ori, and member of the Company of Thorin Oakenshield. After getting into a bit of trouble with the dwar... Read more
Congratulations, you are most like DORI, elder brother to Nori and Ori, and member of the Company of Thorin Oakenshield. Dori spends most of his time looking out for the rest... Read more
Congratulations, you are most like FILI, elder brother to Kili and nephew to Thorin Oakenshield, and a member of the royal line of Durin. Fili and his brother set out with li... Read more
Congratulations, you are most like KILI, younger brother to Fili and nephew to Thorin Oakenshield, and a member of the royal line of Durin. Young and physically able, Kili'... Read more
Take this test »
Recent Results

potato2345623 / f / Straight

ladyofthering3318 / f / Straight
Tests others are taking