Which Dwarf from The Hobbit are you?
Their result for Which Dwarf from The Hobbit are you? ...
Oin
56% Extroversion, 63% Intuition, 56% Attachment and 59% Organisation!
Congratulations, you are most like OIN, brother to Gloin, and a member of the Company of Thorin Oakenshield. Oin joined this quest out of a sense of loyalty to his kinsman, despite being only a distant cousin of Thorin. You are a cooperative and sociable person, seeing the best qualities and potential in yourself and others around you. You act on what you envision to have the best outcome for humanity, tuning into the needs of others and creating a supportive environment. You enjoy caring for others and fostering their growth.
You like to have your commitments organised and settled in advance, putting detail into planning work hours, social engagements, and other activities. Oin invested a significant amount of finances in this quest, which plays a role in him wanting to see its implementation through. You can always be trusted to honour your obligations, rarely breaking a promise for any reason.
Well-read and naturally inquisitive and analytical, Oin is the medicine man of the Company. Creative and dedicated to helping others find original solutions to their problems, he invented a medicinal herbal salve which has since been known as ointment. Such ideas are often seen through to fruition, rarely is something left unrealised.
Your caring nature stems from your intuitive sense of other people's emotions, with a strong sense of empathy which allows you to understand personally the feelings of others. This leads you to seek out a harmonious environment, shying away from emotional conflict. While understanding others' emotions well, you choose not to share yours except with a select intimate few which can cause you to seem mysterious or private at times, but have a rich inner life.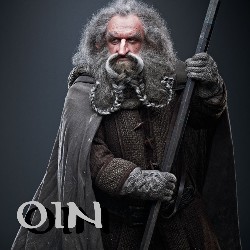 Their Analysis
(Vertical line = Average)
They scored 56% on Extroversion, higher than 79% of your peers.

They scored 63% on Intuition, higher than 55% of your peers.

They scored 56% on Attachment, higher than 69% of your peers.

They scored 59% on Organisation, higher than 66% of your peers.
All possible test results
Congratulations, you are most like THORIN OAKENSHIELD, leader of the Company of Dwarves and heir to the lost throne of Erebor. You are a charismatic and strategic leader, mot... Read more
Congratulations, you are most like BALIN, oldest and wisest of the Company, and much revered amongst Dwarvedom nobility for... Read more
Congratulations, you are most like DWALIN, brother of Balin, and second in command in the Company of Thorin Oakenshield. Dwalin is a renowned warrior and proficient with weap... Read more
Congratulations, you are most like OIN, brother to Gloin, and a member of the Company of Thorin Oakenshield. Oin joined thi... Read more
  Congratulations, you are most like GLOIN, brother of Oin and fathe... Read more
Congratulations you are most like BIFUR. One of the few dwarves in the Company not related to Thorin, Bifur is a cousin to Bofur and Bombur. Bifur is limited to communicating... Read more
Congratulations, you are most like BOFUR, brother to Bombur and cousin to Bifur, and member of the Company of Thorin Oakenshield. Endearing and vivacious, you are a charismat... Read more
Congratulations, you are most like BOMBUR, brother to Bofur and cousin to Bifur, and chief cook for the Company. You are a committed and responsible person in all aspects of ... Read more
Congratulations, you are most like ORI, younger brother to Nori and Dori, and scribe for the Company, chronicling the Quest to the Lonely Mountain. Ori is a talented artist; ... Read more
Congratulations, you are most like NORI, estranged brother to Dori and Ori, and member of the Company of Thorin Oakenshield. After getting into a bit of trouble with the dwar... Read more
Congratulations, you are most like DORI, elder brother to Nori and Ori, and member of the Company of Thorin Oakenshield. Dori spends most of his time looking out for the rest... Read more
Congratulations, you are most like FILI, elder brother to Kili and nephew to Thorin Oakenshield, and a member of the royal line of Durin. Fili and his brother set out with li... Read more
Congratulations, you are most like KILI, younger brother to Fili and nephew to Thorin Oakenshield, and a member of the royal line of Durin. Young and physically able, Kili'... Read more
Take this test »
Recent Results
Tests others are taking