The What Is Your Orgasm Face? Test
The Angry
Ah...the passionate lay! You don't even have to be mad at your parnter! Some bitch called you a cunt at work? That asshole cut you off in traffic? Your girlfriend dumped you, but her fat sister thinks you're a "nice guy"?
Show em all! Sorta! You are the greatest connosseiur of lemonade ever! Life gives you lemons, and you turn it into a PIECE OF ASS! THAT'S GODDAMN BRILLIANT SON! Hell I envy you! I've never had a chance to have angry sex. I've only heard stories. So I'll be brief:
You are awesome. Might be selfish, but in that selfishness, you are looking to SHOW your lover how much of a good lover you are. SHOW them exactly who's boss! Even if it's not the one you really love and really want to be having sex with!
The only downside to you is that, well, sex with you isn't like this ALL THE TIME. It should be, but then it never could be. Like a great oxymoron, or bad simile or something. Anger fades. And then so does our interest in you. Until the next insult that wreaks havoc on your sexual inhibitions.
View all the categories!
The Face of Fear
The Ugly
The Angry
The Blank
The Happy Dreamy
The "O"
font size>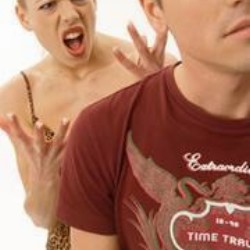 All possible test results
If you were doing a porno, and the camera zoomed in and took a still photo of your orgasm face, they could just as easily use it to promote a horror film. NO NOT THAT YOU'RE UGLY (that's another categ... Read more
This is self explanatory. As there must be balance in life, there must be yin and yang, light and dark, mom and dad, left and right, etc. And if the sex is so damn good you do not care that you are ... Read more
Ah...the passionate lay! You don't even have to be mad at your parnter! Some bitch called you a cunt at work? That asshole cut you off in traffic? Your girlfriend dumped you, but her fat sister th... Read more
You're the worst! You feel nothing. You say nothing. You DO NOTHING! You don't orgasm! You probably don't even attempt to fake it! Loving you is like loving the dead. Cold, stiff, and dry. At ... Read more
You enjoy sex. Just like you enjoy playing with small animals, or sunny days, or hugs. It's nice, pleasurable, maybe even relaxing, and there's no angst, aggression, or any hidden agenda in your love... Read more
Also sometimes knows as the Hyperventillator, the "O" Face is probably the most common face we all make during orgasm. You just have worked your ass off to not only bring pleasure to your partner, bu... Read more
Take this test »
Recent Results
Tests others are taking