The My Pet Rules The House Test
Their result for The My Pet Rules The House Test ...
Pet Spoiler
Congratulations! You scored ###!
How much attention does a pet need? You know how much and do your best to give it. Your pet gives you affection back and that is what makes you two inseperable. You make sure your pet has everyhting he or she needs: A good home, lots of food & water, more toys than you probably had growing up and lots of TLC. Keep up the good work and you've got yourself a best friend for life!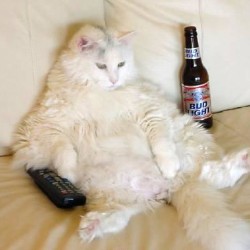 Their Analysis
(Vertical line = Average)
They scored 62% on Hairball, higher than 64% of your peers.
All possible test results
You are not fit to have a pet. For that matter, your own children either. Are you one of those people that shaves cats for fun? Do you leave your dog tied outside when it's 10 degrees out? Anyhoo, you... Read more
Maybe you could love your pet a little more. Show him or her a little more attention. If you can't do that, atleast show a littel more AFFECTION when you have the time. It will be returned, believe me... Read more
You love your pet don't you. But maybe you're a little busy and think people who dress up their pets are loonies. Maybe they are but maybe they have nothing else better to do. You on the other hand do... Read more
How much attention does a pet need? You know how much and do your best to give it. Your pet gives you affection back and that is what makes you two inseperable. You make sure your pet has everyhting h... Read more
You think you have a pet? Wrong! Your pet has itself a human! You share a special bond with your pet that many people don't understand. You tend to go a little overboard sometimes but hey, when it com... Read more
Take this test »