The Are You Germaphobic Test
Their result for The Are You Germaphobic Test ...
Occasional Cleaner
Joy... You scored ###!
You probably need to work out what needs to be cleaned and when... cause' as far as hygiene goes, you're a long way from perfect. All I can offer is a bar of soap and a spunge, which you so obviously NEED. Right now you could sway either way from being 'The Swine' or being 'The Clean Freak'. Lets hope you clean yourself up before it's too late!!!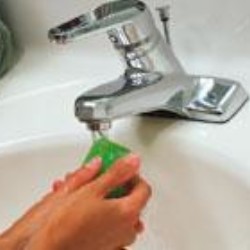 Their Analysis
(Vertical line = Average)
They scored 35% on Germ, higher than 10% of your peers.
All possible test results
Ever wondered why people stand 10ft away from you? Much like the Pig, you enjoy lazing in your own filth, and I think you're happy with being disgusting. Have you ever heard of a bar of SOAP!? Even s... Read more
You probably need to work out what needs to be cleaned and when... cause' as far as hygiene goes, you're a long way from perfect. All I can offer is a bar of soap and a spunge, which you so obviously ... Read more
You can never be too clean, and you know just what to do about germs... KILL THEM! Being such a cleanly fellow you might be ridiculed for being a germaphobe, which isn't true! Give it a few years and ... Read more
You definitely let the germs and viruses around you affect your life. It is likely that you even avoid certain people, places or things because of them. Don't fret…there are millions of people like y... Read more
Take this test »