The Could You Tolerate OrcFace? Test
Their result for The Could You Tolerate OrcFace? Test ...
Pretty Much Okay
You have a 73% chance of successfully tolerating OrcFace!
Napoleon Dynamite here is fairly likeable, especially if you're Mexican. This category, in terms of tolerance level, is kind of reaching in its usage of Napoleon Dynamite, but I just dig him so much that he had to make a cameo somewhere. We could probably hang out easily as friends. There may be a bit of awkwardness, but hey, you probably have decent skills right? Bowhunting skills, numchuck skills, computer hacking skills. . .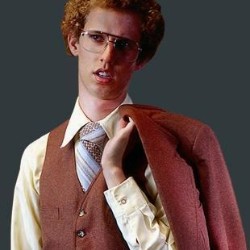 Their Analysis
(Vertical line = Average)
They scored 73% on OFace tolerance, higher than 69% of your peers.
All possible test results
If you're in this category, something went TERRIBLY wrong. This isn't just difference of opinion - this is difference in fundamental ideals. You're either weird, perverted, or WAY too old for me. So ... Read more
See, there's a picture of the Klan. They weren't known for tolerating, OR being tolerable. And this is about where you scored - you wouldn't totally despise me, but chances are excellent we wouldn't g... Read more
There's a photo here of the Wiggles. They can undoubtably pass as musicians. They're very well-intended. But they're just this side of irritating. We most likely would get along, but only for very, ve... Read more
Napoleon Dynamite here is fairly likeable, especially if you're Mexican. This category, in terms of tolerance level, is kind of reaching in its usage of Napoleon Dynamite, but I just dig him so much t... Read more
We'd totally get along. Like kittens. Two kittens, hugging. Read more
Awwwwwwww. AWWWWWWWWWWWW! We're bombtastically compatible, just like Bush and Kerry here. See how Kerry conveys his desire by tongue-ing Bush in the ear? That's TOTALLY what WE'D do! Read more
Take this test »