The Star Wars/LOTR Fan Test
Their result for The Star Wars/LOTR Fan Test ...
Emperor/Dark Lord
Congratulations! You scored ###%!
I can see you really know your stuff. This knowledge lets you get ahead of the newcomers. This makes you the Emperor or the Dark Lord. However, just like their evil is a weakness, so too you do not have all-knowledge, so that's yours. Still, you'll probably do alright for yourself in trivia games. Good work.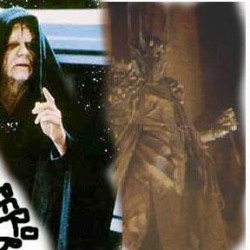 Their Analysis
(Vertical line = Average)
They scored 76% on epicpoints, higher than 69% of your peers.
All possible test results
Oh my, it seems you didn't do very well on either half of the test. Or maybe you favored one side or the other, but still didn't make it. Yeah, that makes you a Stormtrooper or an Orc; mindless foot... Read more
So you're not a genius or master of these subjects, but you're still better than the average joe. You know enough to get by, which makes you a Wookie or a Hobbit. And perhaps with a little bit more ... Read more
Congrats. You know a fair amount about both sagas, so you're probably somewhat of a geek. This is good. This also makes you the capable Bounty Hunter or Knight. Yeah, there may be some folks out t... Read more
I can see you really know your stuff. This knowledge lets you get ahead of the newcomers. This makes you the Emperor or the Dark Lord. However, just like their evil is a weakness, so too you do not... Read more
Excellent work! You clearly have a superior knowledge of both of these epic sagas. Your wisdom and skill in these areas makes you a Jedi Master or a Wizard--pillars of knowledge and power. Just be ... Read more
Take this test »