The What Disney Villain are you Test
Their result for The What Disney Villain are you Test ...
Ursula
You scored 35 evilness!
Ok, so you're fairly evil. You're a brilliant person who enjoys really complicated plots. Confuse the girl, take away her voice, seduce the prince, plan to marry him, spend disgusting amounts of money on a gaudy ship...all so you can lure the Sea King into your vile cluches and steal his power. Quite ingenious. You're quite excessively sexual and don't have any qualms about flaunting your assets, even if they are grotesque. Your plots are brilliant, but your endeavors are shallow. You almost obsess about the details and really spend way too much time getting to the prize, which you don't even really understand. You get your henchmen killed with your carelessness and eventually end up impaled on a ship like a piece of sushi.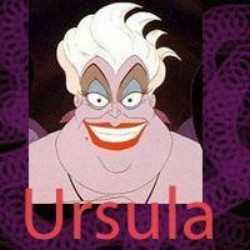 Their Analysis
(Vertical line = Average)
They scored 35% on evilness, higher than 67% of your peers.
All possible test results
You're all bluster and not a lot of action. Yes, I realize you love to have people executed, but your grip on your subjects is so frail that, what you probably don't realize, is that your guards have... Read more
Ok, so you're a fun person. You really enjoy life and enjoy your schemes, but you're just not that evil. You tend to rely on henchmen to do all the dirty work while you sit back with a glass of Tequ... Read more
You're much rather the villain by mistake. You are not neccesarily an evil person, but you do have evil characteristics. Despite your very stereotypical behaviour, you do manage to exist in polite s... Read more
Ok, so you're fairly evil. You're a brilliant person who enjoys really complicated plots. Confuse the girl, take away her voice, seduce the prince, plan to marry him, spend disgusting amounts of mon... Read more
You don't need a name. You are sly and cruel and most definately evil. Your plots aren't all that complicated, but they get the job done. You're gorgeous and elegant, but instead choose to masquera... Read more
You are almost demonic. You have class and prestige. People call you 'Your Excellency' simply because of your power. You rely too much on your henchmen, though. Your biggest blunder is your many, b... Read more
Ok, I'll give you this, you're dramatic. You're focused a driven and will stop at nothing to reach your goal, even if it means burning Paris to the ground. You're an extremely complex villain whose ... Read more
You are the quintessential villain. Nothing bothers you. You would murder your own brother, tell your nephew that he was responsible (regardless of the emotional damage that would cause), you would ... Read more
Take this test »
Recent Results
Tests others are taking