The Roman Emperor's Test
Their result for The Roman Emperor's Test ...
Legionnaire
You scored 49 Romanitas!
The workhorse of the empire, you are an imperial legionnaire. Your knowledge is somewhat serviceable, making you a worthwhile member of the Roman community. However, you have much to learn before you can attempt to move forward.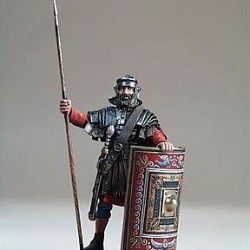 Their Analysis
(Vertical line = Average)
They scored 49% on Romanitas, higher than 20% of your peers.
All possible test results
You are a dirt-farmer, a lowly paganus. You know nothing of the mighty rulers of Imperial Rome! Read more
Only slightly sophisticated enough to squeak by. Your knowledge of the great empire and its rulers is pitiful at best. You'd best study the deeds of the mighty before you seek to tread the ha... Read more
The workhorse of the empire, you are an imperial legionnaire. Your knowledge is somewhat serviceable, making you a worthwhile member of the Roman community. However, you have much to learn before yo... Read more
A great man in the army, and a leader of men. As a centurion, you have the knowledge and wherewithal to decide the fate of the men under your orders. They live and die at your command. Valere!/... Read more
You are a man of wisdom and knowledge! You are familiar with the halls of power and the ways of the mighty. If you work hard enough, even the coveted office of emperor may be yours one day! Read more
Congratulations! Your wisdom is unequalled except amongst the gods! You truly live the imperial mandate in every way--humble the mighty, uplift the weak, and dispence peace and justice unto the enti... Read more
Take this test »