The what kind of hippie are you Test
Your result for The what kind of hippie are you Test ...
Raver
You are 0% experimental, 0% feral, 0% spiritual, and 0% square!
Welcome to the fold, Raver! The newest member of the hippie family, the raver nonetheless has deep roots in hippie culture. You experiment with mind altering substances, and alternative ways of living, but aren't as interested in your primitive or spiritual self.
The hippie world needs you because you're always trying new things, and sharing them with the rest of us.
If you believe that opposites attract, you probably find yourself around Neopagans. If you are more inclined to enjoy the company of those with similar attitudes, then other Alternates, as well as the Alternate, Feral, and Mystic are for you.
The other categories are Faerie-child, Treehugger, Full-blown Hippie and of course, the Non-hippie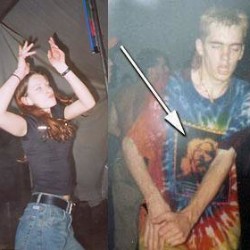 Your Analysis (Vertical line = Average)
All possible test results
Congratulations! You're Alternate. The Alternate is, at first glance, the most mainstream of hippies. You are probably more into protecting disempowered people and the environment than expanding yo... Read more
Wait a second! You scored 25% or more on non-hippie! That's not hip, man - you're an imposter. But that's okay. We hippies are a pretty layed back bunch. We'll probably only throw things at you if you... Read more
Well done! You're a faerie-child. You always stand out from the crowd by the way you dress, but unlike the Feral, not by the way you smell (unless it's the smell of sandalwood, jasmine, and ylang y... Read more
Wait a second! You scored 25% or more on non-hippie! That's not hip, man - you're an imposter. But that's okay. We hippies are a pretty layed back bunch. We'll probably only throw things at you if you... Read more
Good for you! You're a Treehugger! Passionate about the forests, and your primitive self, you are at home in the wild, and dislike the city. You are passionate about the protection of our wild plac... Read more
Wait a second! You scored 25% or more on non-hippie! That's not hip, man - you're an imposter. But that's okay. We hippies are a pretty layed back bunch. We'll probably only throw things at you if you... Read more
Congratulations! You're a Neopagan. Well, maybe you're not precisely a pagan, but you have a deep love for primitive nature, and a strong sense of the spiritual. You feel the beauty of the wild aro... Read more
Wait a second! You scored 25% or more on non-hippie! That's not hip, man - you're an imposter. But that's okay. We hippies are a pretty layed back bunch. We'll probably only throw things at you if you... Read more
Welcome to the fold, Raver! The newest member of the hippie family, the raver nonetheless has deep roots in hippie culture. You experiment with mind altering substances, and alternative ways of liv... Read more
Wait a second! You scored 25% or more on non-hippie! That's not hip, man - you're an imposter. But that's okay. We hippies are a pretty layed back bunch. We'll probably only throw things at you if you... Read more
Of course! You're the Mystic. Always seeking to expand your mind and achieve enlightenment through religion and spirituality, alternative social relationships, and mind-expanding substances. p... Read more
Wait a second! You scored 25% or more on non-hippie! That's not hip, man - you're an imposter. But that's okay. We hippies are a pretty layed back bunch. We'll probably only throw things at you if you... Read more
Roar proudly! You're a Feral! You love to be in nature, and rebel against society. You may dabble in spirituality, but it doesn't rule your life. Neither does hygeine - people are meant to smell th... Read more
Wait a second! You scored 25% or more on non-hippie! That's not hip, man - you're an imposter. But that's okay. We hippies are a pretty layed back bunch. We'll probably only throw things at you if you... Read more
Wow, man! You're the real deal, a full-blown hippie in every way. You strive to expand your mind with spirituality, mind altering substances, and alternative ways of living. The hippie world... Read more
Wait a second! You scored 25% or more on non-hippie! That's not hip, man - you're an imposter. But that's okay. We hippies are a pretty layed back bunch. We'll probably only throw things at you if you... Read more
Create your own test »
Recent Results
Tests others are taking