The Angel Test
Your result for The Angel Test ...
Ariel
So you need Healing (0%), Knowledge (0%), Inspiration (0%), and Strength (0%)?
Archangel
Ariel
is he Angel of courage, nature, and wild beasts. He inspires us to live our life to the fullest and without fear, and to let go of what is hurting or controlling us. He assures us that we are never alone, even in the darkest times. Most importantly, he advices us to face our fears and fight them so that our brave actions may set us free of the boundaries that keep us from becoming who we are meant to be.
Ariel bestows those that have to do battle in their day to day life with the armour of unshakeable faith and confidence. Those "battles" may take place in court, in the form of competition among athletes, on the schoolyard, or in the attempt of protecting one's children and loved ones. Also, he is probably the best source of inspiration and inner strength for those striving to protect and heal injured animals and plants.
Ariel is known as the Archangel of the Earth because he works tirelessly on behalf of our planet. He is in charge of supervising the realm of Earth Angels that are sometimes referred to as the mythical creates we call fairies, elves, etc. He assists the human realm in connecting with the realm of Earth Angels and to build a relationship of harmony and balance. By doing so, Ariel and his legion of Earth Angels can help us to understand the natural rhythms of the earth and experience the magic and healing properties of the trees, flowers, rocks and soil. Ariel loves those who appreciate nature and its beauty, and rewards them by becoming their infinite source of joy and inspiration.
A Bit of Trivia:
Ariel is associated with lions and other animals of the non-domesticated kind. He is the ruler of the elemental kingdom, and as such oversees the sylphs, nymphs, salamanders and gnomes, the spirits of the four elements. Just like Gabriel and Jophiel, Ariel is sometimes referred to as a female. He is sometimes confused with the Archangel Uriel.
Jophiel - Michael - Israfel - Raziel - Ariel - Uriel - Gabriel - Raphael - Zadkiel - Jeremiel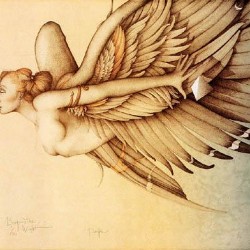 Your Analysis (Vertical line = Average)
All possible test results
Archangel Jophiel is the Angel of endurance, freedom of thought, wisdom, truth, beauty, and illumination of the mind and spirit. He assists us in absorbing intricate information and in dealing ... Read more
Archangel Michael is the Angel of Miracles who strengthens the spirit during difficult times or dangerous situations. He inspires patience, truth, righteousness, strength, faith, and motivation... Read more
Archangel Israfel is the Angel of beauty, song, counsel, sympathy, and resurrection. He is a compassionate Angel, always inclined to offer comfort and guidance to those who are feeling lost and... Read more
Archangel Ariel is he Angel of courage, nature, and wild beasts. He inspires us to live our life to the fullest and without fear, and to let go of what is hurting or controlling us. He assures ... Read more
Archangel Raziel is the Angel of mystery, mystery, and more mystery. Luckily, he is willing to share his secrets with mankind whom he brings the gift of wisdom and knowledge. He inspires us to ... Read more
Archangel Jophiel is the Angel of endurance, freedom of thought, wisdom, truth, beauty, and illumination of the mind and spirit. He assists us in absorbing intricate information and in dealing ... Read more
Archangel Uriel is the Angel of the Earth and the keeper of the mysteries which are deep within the planet. According to Corinne Heline: "The beautiful Uriel stands guardian over the activities... Read more
Archangel Raphael is the Angel of intellect, creativity, healing, joy, courage and hope. This Angel will bring guidance and sustenance to anyone feeling lost, whether physically, emotionally or... Read more
Archangel Zadkiel is the Angel of gentle purification, forgiveness, solace and salvation. This loving Angel radiates comfort to those who are lost, afraid or grieving, and helps the wounded and... Read more
Archangel Gabriel is the Angel of mercy and harmony, and the protector of all that is pure and innocent. He assists humans in developing and utilizing their intuitive ability and grants wisdom ... Read more
Archangel Israfel is the Angel of beauty, song, counsel, sympathy, and resurrection. He is a compassionate Angel, always inclined to offer comfort and guidance to those who are feeling lost and... Read more
Archangel Gabriel is the Angel of mercy and harmony, and the protector of all that is pure and innocent. He assists humans in developing and utilizing their intuitive ability and grants wisdom ... Read more
Archangel Jeremiel is the Angel of sympathy, prophecy, knowledge and intuition, and judgement. He is involved with the process of attaining wisdom and assists us in tasks that require us to pre... Read more
Archangel Jeremiel is the Angel of sympathy, prophecy, knowledge and intuition, and judgement. He is involved with the process of attaining wisdom and assists us in tasks that require us to pre... Read more
Archangel Uriel is the Angel of the Earth and the keeper of the mysteries which are deep within the planet. According to Corinne Heline: "The beautiful Uriel stands guardian over the activities... Read more
Archangel Raphael is the Angel of intellect, creativity, healing, joy, courage and hope. This Angel will bring guidance and sustenance to anyone feeling lost, whether physically, emotionally or... Read more
Create your own test »
Recent Results
Tests others are taking