The Firefly Character Personality Test
Your result for The Firefly Character Personality Test ...
WASH: Pilot
You scored 0% roughness, 0% intelligence, and 0% isolated!
Congratulations, you are Wash!!!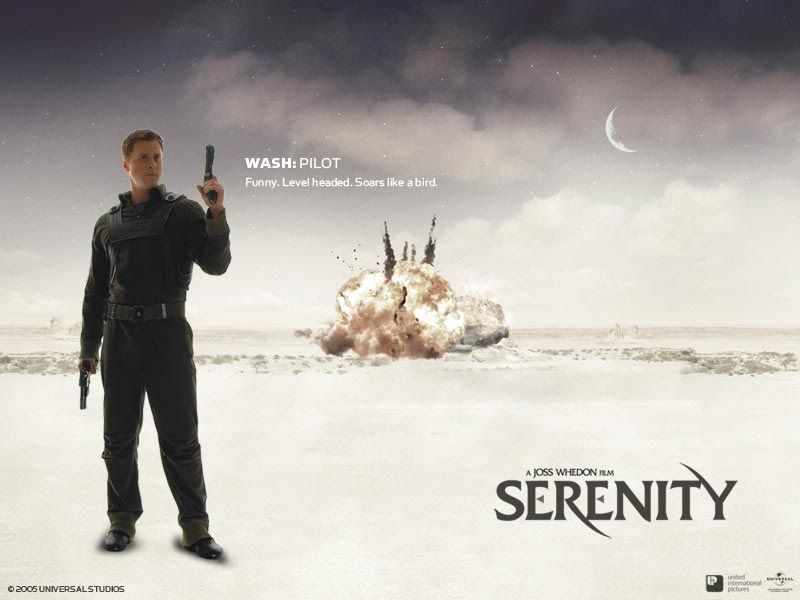 Wash is Serenity's pilot and is also married to Zoe. He is unassuming, self-deprecating and not at all the fiery hero type.
Raised on a world so polluted he couldn't see the stars, Wash entered pilot's training to get a look at them. But he got more than a job when he applied to be Serenity's pilot—he found a wife in the ship's first mate Zoe. A laid-back, jovial guy with an active sense of humor, Wash just wants a ship to fly and his wife alive and at his side.
Wash loves to fly but hates to fight.
Other Possible Results...
KAYLEE: Mechanic
WASH: Pilot
INARA: Ambassador
SIMON: Doctor
JAYNE: Mercenary
ZOE: Soldier
RIVER: Fugitive
MAL: Captain
SAFFRON
THE OPERATIVE
SHEPHERD
Your Analysis (Vertical line = Average)
All possible test results
Congratulations, you are Kaylee!!! Kaylee... Read more
Congratulations, you are Wash!!! Wash is Ser... Read more
Congratulations, you are Kaylee!!! Kaylee... Read more
Congratulations, you are Inara!!! A licens... Read more
Congratulations, you are Simon!!! img src="http://i12.photobucket.com/albums/a216/catdog875woo/firefly-wallpaper-simon-0800x600_si.jpg" alt="Image hosted by Simon... Read more
Congratulations, you are Inara!!! A licens... Read more
Congratulations, you are Jayne!!! A tough ... Read more
Congratulations, you are Jayne!!! A tough ... Read more
Congratulations, you are Wash!!! Wash is Ser... Read more
Congratulations, you are Shepherd!!! Bo... Read more
Congratulations, you are Shepherd!!! Bo... Read more
Congratulations, you are River!!! River is... Read more
Congratulations, you are Jayne!!! A tough ... Read more
Congratulations, you are Jayne!!! A tough ... Read more
Congratulations, you are Zoë!!! Mal's second-in-c... Read more
Congratulations, you are Zoë!!! Mal's second-in-c... Read more
Congratulations, you are The Operative!!! img src="http://i12.photobucket.com/albums/a216/catdog875woo/firefly-serenity-movie-good-quality.jpg" alt="The Operative... Read more
Congratulations, you are River!!! River is... Read more
Congratulations, you are Mal!!! During the wa... Read more
Congratulations, you are Mal!!! During the wa... Read more
Congratulations, you are Mal!!! During the wa... Read more
Congratulations, you are Saffron!!! Saffron is an ex-comp... Read more
Congratulations, you are The Operative!!! img src="http://i12.photobucket.com/albums/a216/catdog875woo/firefly-serenity-movie-good-quality.jpg" alt="The Operative... Read more
Congratulations, you are Saffron!!! Saffron is an ex-comp... Read more
Create your own test »
Recent Results
Tests others are taking