The MI Insult Swordfighting Test
Your result for The MI Insult Swordfighting Test ...
Elaine Marley
You scored 0% swordmastery!
You are a walking masturbatory fantasy for two of the most criminally inept pirates in the Tri-Island Area. Congratulations.
As an attractive woman with the unfortunate curse of swordsmanship and a pirate mansion, you've been warding off awkward advances, lunges, and repostes for the majority of your post-pubescent life. Your rack and your skillset have made you the deadly crown jewel of geek desire.
Naturally, these circumstances have molded you into one of the most cruel-tongued, canniving swashbucklers ever to swill back the brew.
That's right-- you're so deadly, you don't even drink the near-beer.
You are the #2 result for this test.
---
Interested in seeing what other people scored?

Three-Headed Monkey | Low Moral Fiber | Meathook
Otis | Stan | Captain Smirk
The Sword Master | LeChuck | Elaine Marley
Guybrush Threepwood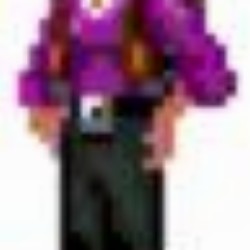 Your Analysis (Vertical line = Average)
All possible test results
Are you a figment? A myth? A MONSTER? Can swordplay this bad even EXIST?!? I'd recommend that you self-eviscerate, but you would miss! You are a scurvy-eaten leper in the world of p... Read more
So you're are a man of low moral fiber, eh? You sit on the pirate equivalent of a stoop, swilling near-grog and weeping over the decay of your never-was circus career. Your only exercise is ... Read more
Some years back, a tragic mis-encounter with a feathered demon left you with two hooks for hands. Months of living on an isolated island hasn't done you any favors, either. You talk to your tattooed... Read more
You are a rank-smelling pirate serving multiple sentences for the illegal harvest of flowers. That's right: flowers, you pansy. All you have to your name are a few desperately-needed ... Read more
Stan is a man to be reckoned with. Although he never presents with a rapier in his hands, the erratic spasms of his salespitchin' dance have a fighting form all their own. As to wit-- this m... Read more
You teach swordplay for a living, and your nights are feverish with steel-spun fantasies of Carla's rape-- err... *rapier* wit. Not only did you invent THE MACHINE, you know a damned g... Read more
You're a fox of a slash-artist with a tongue that could lance a hummingbird on tweak. You've spent your time tailoring insults that leave the men emotionally castrated, and that emasculating scowl bi... Read more
The dreaded ghost pirate of Monkey Island, you enjoy bloodplay, busty pirate governors, and voodoo-powered amusement parks. You're a man with a luxurious view of Hell and a giant glowing root in your... Read more
You are a walking masturbatory fantasy for two of the most criminally inept pirates in the Tri-Island Area. Congratulations. As an attractive woman with the unfortunate curse of swordsmanship... Read more
You can hold your breath for ten minutes! Pick bananas that no-one else can reach! Survive being shot from a cannon! Out-insult the Sword Master of Melee Island! Subdue piranha poodles! Totally f... Read more
Create your own test »