The How Old Do You Act Test
Your result for The How Old Do You Act Test ...
-Truant-
You scored 0 mature, 0 young, 0 reasonable, and 0 outrageous!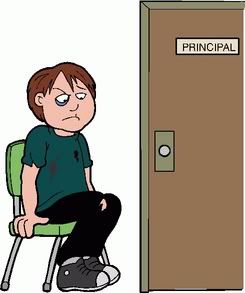 truant[1] (noun): one who shirks duty; especially : one who stays out of school without permission.
truant[2] (adjective): 1 : shirking responsibility
2 : being, resembling, or characteristic of a truant
truant[3] (intransitive verb): : to idle away time especially while playing truant
Description:
"-Truant's-" have a irregular swings ...

... being highly 'mature' and responsible one minute, 'outrageous' behavior the next, all whilst possessing a good natured 'youthful' demeanor.
So, here's the way a truant's day can roll:

Up on time, ready for school or work. As they do extra around the house and expect a productive day.
Then on the way to do the things they do ... one call from a friend and then ...


*POOF!* ...
Basically ~ it's:
"Ferris Buellar's Day Off"

With your youthfulness and lack of reasoning ...'spontaneity' are assured!
What happens next

Stay tuned to find out!
.
Mature: Smart and street smart ... it's an art! Your flare for fun will get you into trouble ... but you have an uncanny ability to come out smelling like a rose!
Young: With the high 'maturity' and this zooming 'youthfulness' you have many sides. But you rarely ACT too old ... you ACT accordingly.
Reasonable: Nope ... don't need a reason! Spontaneity is your specialty!
Outrageous: Youthful and fun spirited, your maturity never makes it 'mean spirited' ... all in good clean fun!
.
[YOUR "AGE" GROUPING] "Teeny Bopper/Fun for all ages." You can mingle with all ages ... you probably have friends in different age groups. Your distention for each day ...

(as the crow fly's)
.
.
Match made in heaven: You and the 'BRAT Child' have a lot in common ... if nothing else you would have fun skipping!
"Vote, then click here for your match!" "Brat Child!"
.
100-80: Not so good (yet not bad) *just means you are not immature*.
80-60: Best . . . You know a good time, yet still responsible.* just got enough playful left in you to make it interesting.
60-40: Again rowdy, but some what annoying ... Could be a lot of fun! (but - in small doses.)
40-20: Not bad . . . but still crazy, Yet fun. Although not a person to ask advise of. Still ~ "wet behind the ears".
20-00: The worst! (down right the one to avoid at all cost) Just kidding, but what one would think of as a real "Brat Child"
I know the scoring is somewhat unconventional . . . yet so am I? ::shrugs::

.
.
Did you enjoy this TEST

You should try my others:
All highly rated, all fun and re-tooled ...
Did I mention other TEST

Click the links, here's a PREVIEW

.
.
The How Old Do You Act Test
The first test that I ever made. In the TOP 100 Alltime rank
"See if you act your age ... Not your shoe size" .
.
The 10 questions to my heart Test
After over a year and a half, I made one of those "compatibility" test!
Ladies, if for only 'shits & giggles' ... Try it, 10 questions to see if we might:
"Have it going ON!"
.
.
The Free Beer & Sex Advice Test
Number One

* in the "Advice Category!"

"See if you got what the HOT
ONES want ...
or should be BANNED from going out in public!"
.
.
The Can KISSING style get you SEX Test

There's KISSING BANDIT'S on the loose! Take this test and find your
~ prefect ~ Kissing MATCH!
My Newest Test, Number Two* in the "Advice Category"!
Fun categories to read. --Links-- to your match Categories.
.
.

(all these test have been in:
OkCupids ...
"Movers & Shakers"*
"Top 20 Ratings" *
"OkCupid Recommends"*
Try em, you will never know unless you try!)
.
.
* at this posting

.
.

.

Are you curious of the other categories?

"GOOD!"

I worked hard to make them ... And since it's YOU asking, I don't mind you taking a peek at the other categories. Heck, you can retake the test and give different answers to get one of you favorites categories as far as I'm concerned.
*smiles*
As long as you don't forget to vote each time!
*laughs*
.
.
"Infant"
*See ya!
I hope you had fun!*
Ok, this is the last link; I promise!
.
Your Analysis (Vertical line = Average)
All possible test results
"Infant" You probably never faced too much of life y... Read more
x__(Place "Good Time" Here)__x. Descripti... Read more
Stimpy: Not a mature one, nor young. He does fun stuff ... not too 'outra... Read more
Description: "babe" Though not as "hyper" as a chil... Read more
img src="http://i3.photobucket.com/albums/y65/DaHippY/-CartmanPresent.jpg" alt="Image h... Read more
img src="http://i3.photobucket.com/albums/y65/DaHippY/-real_wild_child.jpg" a... Read more
img src="http://i3.photobucket.com/albums/y65/DaHippY/a3a79e71.gif" alt="Image hosted by Pho... Read more
img src="http://i3.photobucket.com/albums/y65/DaHippY/_hobbssplash.jpg" alt="Image ... Read more
Description: Already "Been there and Done That?" ... Read more
Description: Paul Simon wrote it, Willy Nelson even sang it: "Still Crazy after all these years." And years later ... you may admit that you're "cRaZy after all" ... Read more
img src="http://i3.photobucket.com/albums/y65/DaHippY/grandparocking.gif" alt="Image... Read more
img src="http://i3.photobucket.com/albums/y65/DaHippY/chickens.jpg" alt="Image hosted by... Read more
Description: "man-CHILD" or ... Read more
img src="http://i3.photobucket.com/albums/y65/DaHippY/_at_the_principals_office.jpg... Read more
Description: Hereeeeeeeee - puppy,puppy,uppieeeee ... Oh, you know you heard it, or... Read more
img src="http://i3.photobucket.com/albums/y65/DaHippY/-stormy.jpg" alt="Imag... Read more
Create your own test »
Recent Results
Tests others are taking