The Survival of the Fittest Test
Rad Dog!
Your totally so coo. Yo da DOG!! Holla! Represent!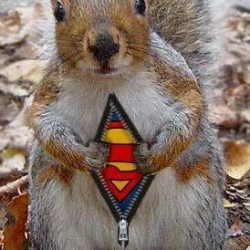 All possible test results
Wow, you are not a person that I would want as a friend. You can't even decied to eat your pilot to survive. You need to start making some better desicions in your life, becuase if you don't that's ... Read more
Well your not the worst person ever, but I still wouldn't want to have anything to do with you. Hey at least your not the bottom of the bottle. Read more
Your totally so coo. Yo da DOG!! Holla! Represent! Read more
You may have answered acouple questions with "I Don't Know." and gotten acouple bad answers. Try it again and maybe you'll do better. Read more
Your the toilet scum of the bathroom. Well not really but your closer to being that fly that is constently in the bathroom annoying the heck out of you whenever your trying to brush your teeth, or ta... Read more
Lose 25 pounds and get back to me. You knew you could of done better... so what went wrong? Read more
You scored half! Well the lower part of the half-way mark, but still that's pretty good!! Read more
You scored half! Even better then that your in the upper-half. So have yourself a big glass of Gatorade and sit back and relax. Read more
Have you ever felt like you weren't the bread, nor the cheese, or the ketchup, or the lettuce, but the meat? The real meat of the sandwhich? Well that is where you are, isn't it cool? Read more
Your so close to the real truth. The real you. The real Big Fish. Maybe when you retell this story you can add acouple short people and a pink flying elephant. Read more
You have some hiding problems, did you know that? Maybe you should lay off the beers and 12+ hour sleeping schedule. Read more
Nice. Hey what are you doing next weekend? I figure we can go out and catch a movie with a bunch of friends. Read more
Great job. You could of been alot better, but hey you screwed it up;) or you answered one of the questions with a "I Don't Know". Either way you were so close to the Perfect Score. Read more
Your great you made all the right decisions, I would love to hang out with you. Get your rock climbing gear and your tent and we'll go hang out on the side of a cliff sometime. Read more
Take this test »
Connect your existing OkCupid account
Welcome Back!
Restore your account to continue meeting new people.
Reset your password
We'll email you a link to reset it.
Email sent!
An email is on its way to .
If you don't see it, try checking your Spam folder.
Enter Authentication Code
Sign in
Not so fast!
You need to complete your basic info on the mobile app before you can use the desktop site.