Which 'The Wire' character are you?
Gus Haynes
Tom Wolfe wannabe, think you're gonna get a phrase like that past me? No fucking way, motherfucker!
As Gus you've got a strict sense of journalistic ethics. That doesn't sound all that laudable, but if the dissemination of factual and valuable information is the basis of a free society, then your stand against the fraudsters and embossers really does mean a damn. As such, your morality is your defining trait. You aren't one for manipulating your way up the chain of command: you believe in your job and you stick to it. If a promotion comes, then it comes. Your dependability is matched by your intelligence, but never forget that the game cares not for who has "the facts" or "ethics". Even then, I very much doubt that knowing that would stop you.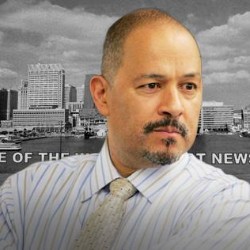 All possible test results
Malaka.   Before you fly into a rage and shoot me, just hold on a sec. Ziggy is pretty misunderstood, which I bet you can identify with. Your rebelliousness is your defining... Read more
The fuck did I do?   As McNulty, your defining trait is your rebelliousness. In this case, read "assholitude". But we're not talking any old asshole. We're talking a gaping ... Read more
You had your stats, you had your arrests, you had your seizures. But don't none of that amount to shit when you talking about protecting a neighborhood, now, do it?   Your d... Read more
I know about a murder.   As Randy, you've got a lot going for you. You're perceptive, you can make a buck, you've got half a brain and you know how to use it when it counts.... Read more
Where the fuck is Wallace?   It's telling that D'Angelo consistently places amongst the most loved Wire characters. People probably think extremely highly of you. And it isn... Read more
Y'all say, don't lie, don't bump, don't cheat, don't steal or whatever. But what about y'all?   As Namond, your defining trait is your emotiveness. You just want... Read more
Bend too far, and you're already broken.   Daniels is an interesting case. You've got the drive to advance yourself but also the morals and perceptiveness to see that the m... Read more
I still wake up white in a city that ain't.   But that still isn't going to stop you from becoming one of the most powerful men in Maryland, now is it? As Tommy Carcetti, yo... Read more
Whatever it is, they don't teach it in law school.   As Rhonda you are doubtless one of the most intelligent of your peer group, and as such your intelligence is your defini... Read more
You follow drugs, you get drug addicts and drug dealers. But you start to follow the money, and you don't know where the fuck it's gonna take you.   Freamon is not just good... Read more
You juke the stats, and majors become colonels. I've been here before.   Whether you are cracking codes or educating eight-graders, as Prez your defining tr... Read more
How do you get from here to the rest of the world?   Like Dukie, you're a smart kid who's experienced some bad shit in your life. Unlike Dukie, you aren't a smelly kid from ... Read more
I want my corners.   As Avon, you live and breathe the game. You know what it's all about: reputation. If you can hold onto your rep, then you've got power money can't buy. ... Read more
Do it or don't. But I got some place to be.   You can sum up Marlo with one word: power. Doesn't matter what kind of power, or how you got it, all that matters to you is get... Read more
Sheeeeeeeeeeeeeeeeeeeeeeeeeeeeeeeeeeeeeeeeeeeeit.   The game has many players, but none quite so masterful or devious as Senator Davis. You are an expert manipulator, con ar... Read more
There's a lie in here somewhere.   There's a reason people despise lawyers, and you are it. Things are simple on the street, but in the courtroom black and white, good and e... Read more
Everything that guy said when I got to him... every last word is in my notes!   I'd tell you what I think of you, but you'd probably misquote me. As Scott Templeton, you can... Read more
We want to please the mayor, not go to jail behind this shit. span styl... Read more
This is Baltimore. The gods will not save you. As Burrell, you ... Read more
Unless they are some smart-ass pawns.   As Bodie, you will play the game until it kills you. But you're much more than a simple footsoldier or drug-dealer. You've got a dang... Read more
Once you come out with it, you gotta be willing to go all the way.   A wise man once said that it's play or get played out on the streets. And you'll be damned if you're goi... Read more
Once you in it, you in it.   Being in the middle is where you thrive, and sometimes being right in the middle is the best place to be. You can see an awful lot from there, e... Read more
Y'all some semper fi motherfuckers, ain't you? Where Cheese go to enlist?   Most people want you to shut up, but then again most people wouldn't know what it means to be the... Read more
You can look him in the eye now. It don't matter who he is, or what he's done, you can look him right in the eye.   Of all the people in this list I wouldn't want to meet, y... Read more
Man fuck the charge, this here is gun powder activated, twenty seven caliber, full auto, no kick-back, nail throwin... Read more
Do the chair know we's gonna look like some punk-ass bitches out there?   As Poot, you are part of the rank and file of the game. You don't stand out, you aren't a rebel and... Read more
Adjourn your asses.   Like you, Stringer is all about business. You've reached the point where the people below you start to look like walking wads of cash, and less like pe... Read more
The world is a smaller place now.   What is there to say about the biggest question mark in the show? As The Greek, you're a mystery. You hide in plain sight, sipping your c... Read more
A proposition, then.   Joe is all about playing it safe. You don't throw your weight around like Stringer Bell, trying to gobble up massive amounts of real estate. You don't... Read more
I got the shotgun. You got the briefcase. It's all in the game though, right?   Congratulations. You are the most loved character on one of the most critically acclaimed sho... Read more
Because you do not get to win, shitbird. We do.   As Carver, you are very much career-orientated, but you also demonstrate that sometimes you don't have to play the game the... Read more
No offense, son, but that's some weak-ass thinking. You equivocating like a motherfucker.   Like Bubs, you know everyone. It's part of your defining trait: street-smarts. Y... Read more
We used to make shit in this country... build shit. Now we just put our hand in the next guy's pockets.   As a working-class union leader you've seen enough to know that the... Read more
We got ships coming in today Uncle Frank, the writing's on the wall.   As Nick, you are the near opposite of your cousin, Ziggy. Congratulations, you aren't an idiotic, path... Read more
The Western District way. As ... Read more
The game ain't in me no more.   As Cutty, you demonstrate that being a soldier isn't just about killing people to protect the bosses interests: sometimes being a soldier is ... Read more
I'm in, if it makes the fucking case I'm in all the way.   Sydnor is the new kid. You're new to the game, new to the job and new to the streets, and a whole range of people ... Read more
As rough as that neighborhood could be, we had us a community. Nobody, no victim, who didn't matter. And now all we got is bodies, and predatory motherfuckers like you.   Fe... Read more
Tom Wolfe wannabe, think you're gonna get a phrase like that past me? No fucking way, motherfucker!   As Gus you've got a strict sense of journalistic ethics. That ... Read more
Stand around some shiny shit and get paid. Work murders and starve. What kinda shit is that?   As Kima, you work the case. You don't care about making a stand against the ... Read more
Take this test »
Connect your existing OkCupid account
Welcome Back!
Restore your account to continue meeting new people.
Reset your password
We'll email you a link to reset it.
Email sent!
An email is on its way to .
If you don't see it, try checking your Spam folder.
Enter Authentication Code
Sign in
Not so fast!
You need to complete your basic info on the mobile app before you can use the desktop site.