The Indie Band For You Test
Belle & Sebastian
Tell your friends, make a new cult everyday, Belle & Sebastian is your band! The twee-pop masters may not be everyone's cup of tea, but they're certainly yours.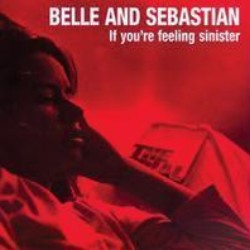 All possible test results
The Decemberists are the band for you! They've got a little bit of everything and too much of nothing. Guys, girls, pirates, whales all wrapped up in a catchy folk-pop package. Now you can call yourse... Read more
Who rocks the party that rocks the body? Well you do apparently. Les Savy Fav is your band! The most intense and down right scary act around. They're loud and hard and in your fucking face!!! Led by a... Read more
Your roots must be strong and deep because you got The Microphones! Get ready to be felt up by this touchy-feely music. Phil Elv(e)rum and his band of merry star children will teach you all about the ... Read more
Get the car and the night off and get ready to meet the sun and moon, you got Built To Spill! Indie's answer to arena rock is best band for you. Some people think they're good looking, other people no... Read more
What's that we spies? Is it slow hands? Why it's Interpol! Your band is cool, your band is smooth. Not even jail could stop your band! They'll make you lose your buttons and they'll make you spit with... Read more
Get ready for a sad and psychedelic adventure, your band is Neutral Milk Hotel! A band full of contrast and contradiction, blending simplicity with complexity and softness with abrasiveness all led by... Read more
When I look at you, oh, I know My Bloody Valentine is your band. Get ready to be washed away in waves of feedback and static. This is extremely unique and influential music, but still accessible and f... Read more
Well what can be said about your band that hasn't already been said? probably nothing. Sonic Youth were pioneers of indie rock and without them the genre would be completely different and many of your... Read more
Man you're cool. Your band is Clap Your Hands Say Yeah! Right now they're blowing everyone's mind with their ultra-trendy brand of disco-new-wave-punk-funk. No one will remember them next year, especi... Read more
Do the cockroach yeah! Your band is Modest Mouse. The most intense and exciting band since the Pixies. With admittedly drug-enduced lyrics, a fake southern drawl, and the finest techniques of the Pixi... Read more
Shh, stop it! Pavement is your band! This is about as pure as indie rock comes. Malkmus' quirky lyrics and the band's overall laziness and apathy made them superstars in the indie world. Zurich may be... Read more
Hey! You fucking die! Your band is the Pixies, far and away indie rock's most influential band. Led by Frank Black, his one-man banshee choir vocals, disturbing yet compelling lyrics, and unique songw... Read more
Tell your friends, make a new cult everyday, Belle & Sebastian is your band! The twee-pop masters may not be everyone's cup of tea, but they're certainly yours. Read more
You woke up with the power out, but the Arcade Fire found the light. This Montreal indie-pop/rock collective puts on the most intense live show around and released one of the greatest albums of the la... Read more
Sweetness, I wasn't only joking when I said that The Smiths were your band. Morrissey, Marr and company's brand of indie guitar pop certainly is a light that never goes out for you. Read more
You don't remember that Radiohead is your band. Why you gucci little piggy! Pretty much the all-around perfect indie band, they're popular, but they're still really good and very original and they're ... Read more
Take this test »
Connect your existing OkCupid account
Welcome Back!
Restore your account to continue meeting new people.
Reset your password
We'll email you a link to reset it.
Email sent!
An email is on its way to .
If you don't see it, try checking your Spam folder.
Enter Authentication Code
Sign in
Not so fast!
You need to complete your basic info on the mobile app before you can use the desktop site.