The Indie Rock Artist Test
Their result for The Indie Rock Artist Test ...
Enon
You scored 30 Intensity, 30 Popularity, and 67 Experimentality!
Craziness, that's what you're full of. So little people have heard of you and to be honest, one can't be sure if most the public would really get it. But those who do get it? They love it. You're hot.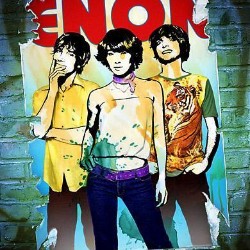 Their Analysis
(Vertical line = Average)
They scored 30% on Intensity, higher than 8% of your peers.

They scored 30% on Popularity, higher than 24% of your peers.

They scored 67% on Experimentality, higher than 86% of your peers.
All possible test results
You're lucky because you are incidentally the indie love of the test author's life. Interesting, calculating and all around fantastic, you make indie folk music based around creative topics and manage... Read more
Your voice sounds like a 5 year old Björk strung out on crack and your lyrics are akin to nursery rhymes. Annoying at first listen, you have an alluring quality that slowly draws the listener in, ren... Read more
Craziness, that's what you're full of. So little people have heard of you and to be honest, one can't be sure if most the public would really get it. But those who do get it? They love it. You're hot. Read more
A personal favorite of the test author, you sort of stabbed yourself in the heart in October of 2003. This, well, resulted in your death. So you don't make music anymore. But when you did it was good.... Read more
Nonsensical lyrics that are secretly super sensical. Massive hand clapping and finger snapping hotness. A song about a goldfish and the ability to use a term like "cootie wootie" and still be taken se... Read more
You didn't just do the soundtrack to The Virgin Suicides...you're so much more than that. And many a slightly tweaky indie insomniac thank you for that. Read more
Described by Jack Black's character in High Fidelity as "old sad bastard music," you do so much more than make depressed kids sniffle. You sing about death and domestic abuse in happy poppy tones suit... Read more
Your music is beautiful, electronic-ish, and just different enough than everything else to make it stand out. And that Ben Gibbard is one fine fellow with one smooth operator of a voice. Read more
Quirky. Noticeable. Pink Robot battling and fantastic. With a creative flare and a human hamster ball thing in hand, you are most definitely The Flaming Lips Read more
You're totally hot and totally quirky in the most awesome kind of way. You play the piano and talk about loogies and radio BBC and pirates! You're russian and you live in Brooklyn and frankly, many a ... Read more
You're the cutest married couple in the music industry and your music is just plain good...nothing super fantastical or special, but anthem like and adorable because one can just picture it being a ma... Read more
From experimental drum beats to writing an indie rock opera over oral history, you're willing to try anything to make something that sounds cool. Your drummer rocks out hardcore and your front woman h... Read more
You write good songs that are just plain good...nothing too crazy and many times thats okay because its a solid sound, that. Read more
Straight up rock music the way it always should have been. Throwbacks to all sorts of old but good bands and yet a certain degree of experimental rhythm and sound. Solid through and through, and fille... Read more
Your release "In The Aeroplane Over The Sea" is one of the finest and most copasetic indie rock albums of all time but not many people know it. Your lead singer has a haunting voice and droning lyrics... Read more
Your most famous video contains lite brite imaging and one of your members used to be on the show Salute Your Shorts. It's a little bit crazy to listen to you and you have to be taken in small doses, ... Read more
Foot tapping, xylophone of power goodness super propelled by that pesky little spot on the OC that catapulted you to massive fame and left your indie fans wondering if you'd go and ruin everything. An... Read more
Arguably one of the best bands of all time, your talent is versatile and multi-faceted, spanning the gamut of that which is totally hot. Recognizable and accepted by all, you're able to balance the fi... Read more
Also incarnated as Ted Leo and the Pharmacists, you can really shake the sheets (for lack of a better metaphor). Lots of dancing, lots of rhythm. Truly makes me want to shake my groove thing. Hooray! Read more
Danse on, you crazy electronic poppish cleverness thing loaded with innuendo. Danse on! Read more
People don't know about you, but they should...but they don't. Art punk? Odd. Song titles? Even odder. You might do a bit better if you could control the massive amount of fighting between members but... Read more
People sometimes percieve you as little more than one hit wonders when in fact you put out some really great music. Loaded with innuendo and general goodness that makes me want to dance like whoa, yo... Read more
Talented to a fault and influenced heavily by legends of rocks past, your folk storyteller vibe and deeply rich tones create a lyrical intensity that is matched by few. And goodness, could Colin Meloy... Read more
Too cool for your old band and flying on the fledgling wings of a solo project, your living in france charm and sexiness combined with happy-pleasing music make for...well, you're neat. Read more
People dig you...and you rock. You rock in a way that some try to resist but eventually, well, they give in. Rock on. Read more
You will not be deterred by the cred damage Garden State tried to cause! Though Zach Braff may burn in the fiery depths of indie hell, your music will continue on in its playful sweetness and melancho... Read more
Your new fans hate the old stuff and the old fans hate the new stuff but at least everyone can agree that you've rocked hard at one point or another. Your talent is diverse and your willingess to go i... Read more
Take this test »
Connect your existing OkCupid account
Welcome Back!
Restore your account to continue meeting new people.
Reset your password
We'll email you a link to reset it.
Email sent!
An email is on its way to .
If you don't see it, try checking your Spam folder.
Enter Authentication Code
Sign in
Not so fast!
You need to complete your basic info on the mobile app before you can use the desktop site.