The Which Musician Am I? Test
Their result for The Which Musician Am I? Test ...
Arthur Lee
28 depth, 47 controversy ,29 talent
Oooh you wild man. I'd tell you to calm down but it's a bit too dangerous.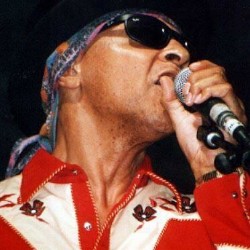 Their Analysis
(Vertical line = Average)
They scored 28% on deepness, higher than 17% of your peers.

They scored 47% on controversy, higher than 100% of your peers.

They scored 29% on musicianship, higher than 48% of your peers.
All possible test results
You obviously have better things to do. Sleep your day away sometimes, other times drug it up. Who knows? Who cares? Read more
Poor old Nick, he was arguably too nice for his own good. A clever musician and soulful songwriter. You seem to have similar qualities, and that's by no means a bad thing. Read more
A prodigious, technically sublime guitarist. Doesn't make mistakes but is perhaps not all that flamboyant. Despite your skills and your undeniable amiability you may be destined never to receive the r... Read more
Bit of a tough guy ey? Fair enough. You're probably quite popular and can probably drink quite a lot. Try to keep out of trouble though. It's for your own good. Read more
A good helping of talent and a bit of an edge, you are most like John Bonham. Loving the hair. Read more
Little short of a musical genius. Created several totally different yet brilliant albums and composes great orchestral pieces. Says very little but doesn't need to. Good on ya. Read more
Sounds like you're more likely to slap someone than do anything useful. Read more
Oooh you wild man. I'd tell you to calm down but it's a bit too dangerous. Read more
Quite the hardman if newspaper reports are to be believed but created an incredible unique and raw rock/blues fusion and is quite the talented musician. Focus your talents my son. Read more
Bizarre political activist, pacifist and undeniably cool in a strange and somewhat geeky way. Don't be afraid, others are with you! Read more
Enigmatic songwriter, generally unappreciated. I wish you well. Read more
Incredible songwriter and touchingly soulful. Jeff was a great person, and so are you it seems. Read more
The ultimate mystery. A mixed-up enigma, you must be one hell of a hard person to understand. Read more
Canadian rock God Neil young is still going and still the epic powerhouse that made him famous. You have an old soul with a bit of an all-round flair for things. Read more
A very intelligent and exceptionally talented individual. Probably the greatest guitarist since Hendrix but has a lot more to him than just that. If you are anything like Squire then feel free to take... Read more
An icon for the misunderstood angst-ridden souls. It's fair to say he made some questionable decisions but who hasn't? You probably have quite a lot of substance to you but maybe you aren't sure how t... Read more
What can you say about Bob Dylan? Spawned so much great music. Legendary. Read more
Probably the greatest musician of the modern age, Hendrix had his fair share of incidents and certainly lived a fast life. You certainly don't need any of my advice. Read more
Take this test »
Connect your existing OkCupid account
Welcome Back!
Restore your account to continue meeting new people.
Reset your password
We'll email you a link to reset it.
Email sent!
An email is on its way to .
If you don't see it, try checking your Spam folder.
Enter Authentication Code
Sign in
Not so fast!
You need to complete your basic info on the mobile app before you can use the desktop site.