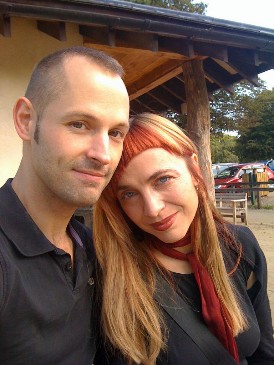 Camille and Lee
I was entranced.
I insisted we meet shortly after a few messages, as i didn't want to get emotionally close to someone online and then not have chemistry in person - that had happened to me a couple times before.

We met at the Southbank in London at the Benugu Bar at the BFI - somewhere 1/2 way for both of us and easy train access for both. Lee teaches Kung Fu classes throughout the day Mon-Fri, his last class at 9:30 so after a shower, the earliest he could find me was 10:30, but he arrived around 10:45. When he arrived, I was being entertained by two young gay men checking out and making commentary other men in the bar... looked like a first date for them too.

After Lee arrived, he ended up waiting to get us a drink for a long time. We didn't have much time to chat before we were asked to leave the bar as it was closing, so we went to the nearby Ping Pong location and had some food. Lee hadn't been before and loved it. It was a short date as I had to get the last tube around 12:15 and he had to get his shortly after. So I gave him a quick kiss before leaving, but felt we needed to meet again.

It was several days before we met again because we both are really busy... when we did it was for breakfast the following week, before his noon lesson. It was in the same area by the Thames and we had a small breakfast of croissants and fruit and coffee. After that we had a small stroll by the river and sit down in the grass by the London Eye and then back to the train station - another 1.5 hour date, short and sweet. We got on well but I wasn't sure just yet if there was chemistry but really liked his company.

And then we kissed properly at the station and all time stopped and I was entranced. It was magical, I didn't want to stop, but he had to go. I was so stunned (in a good way) by that kiss that i couldn't see straight, or find my way to the right platform in the tube station, so utterly awe-struck, dumb-founded, with my whole body tingling that it took several minutes to regain composure. Thanks OkCupid!
Tagged as: Regular OkCupid Successes