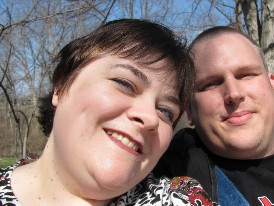 Tobin and Jennifer
Be Honest
Jen and I met online in October of 2010. On November 5th of that year we had our first date. One year later on that date we were married. Jen and I have a very happy relationship and we are currently trying to have a child.

I don't want to write a whole lot about Jen and I, but rather would like to give those who are looking a few pointers on finding a partner on OkCupid. Jen and I are the kind of couple that's so in love with each other that I think we kind of make other people sick. So I'm going to save the sugar for my love and give you guys an idea about what you need to do to succeed here.

I was on OkCupid for a couple of years before I met Jen and I dated six or seven women from here. The main thing I kept running into was people being dishonest. Dishonest about what they were looking for; dishonest about their personal views; dishonest about their appearance; dishonest about their age; and so forth. So, the main thing is just be honest about everything if you are looking for a real relationship. If you're not honest, you'll never get what you want or things will eventually fall apart.

A tip for guys: Be patient. There are a lot more men here than women and they have to sift through a lot of messages looking for someone who they might like to meet. They also have a lot more to choose from as far as matches go so you may be a good match for someone and not get a response. Hang in there.

A tip for women: A lot of guys here aren't looking for anything long term. That's cool if you're into that, but if you are looking for a mate you probably do not want to do a whole lot of one night stands. Chances are you'll have a lot of guys show interest. You'll have to learn how to discriminate between who really wants what you want and who just wants to get into your pants.

I guess a lot of the above could also apply to gay people looking for something long term, but I won't pretend to know what that's like.

The main thing is that you can find real, lasting love here- just be honest; just be you. That's it. I wish you all the best.
Tagged as: OkCupid Matches and Weddings.