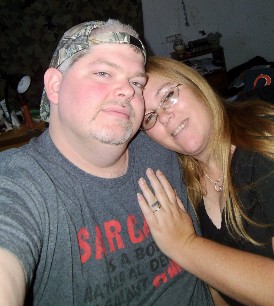 DaRcy and Joe
Not All Men Are Assholes
I had just changed a few things on my profile including NOT wanting any assholes and that I love Metallica (old). These 2 things caught Joe's attention. As a fellow Metallica fan, he was hooked. (plus he had to prove not ALL men are assholes) After hours on the phone, he convinced me to go out. I picked the 13th of August because of the full moon. We all know weirdos come out in the full moon. Joe came to my place of work, a gun store. After I got off work, he followed me to my house and from there we went out to eat. Before we actually got to the restaurant his brakes locked up. So on our first date, we changed brakes in his front yard where I met the whole family. We got to see each other hot, sweaty and slightly irritated. We also got to work together on our first project. It was so much fun!!! Plus I get to see him with his shirt off!!! :) We got engaged on the 29th of August which was a new moon. After almost a year of being together, we live in bliss with NOT a single argument! Our wedding is August 31st the next blue moon. We are completely happy and thank both you and Metallica! And yes he did prove his point.....not all men are assholes!

Update: Joe and I will be married 4 years in just a few weeks. We have had 9 deaths during this time, 4 grandbabies born, adoption of my sons (now our sons), remodeled an entire house, sold a house, moved to a different state, changed jobs, and now buying another house which we will subsequently remodel. Through all these life changes, I still am shocked that I found the one person on Earth that gets me. We have never had an argument. Others say we are so much alike that it is scary. He proves everyday that not all men are assholes. We hope to have many, many more years together. With the help of OkCupid and Metallica, I found the other half of me. THe half that makes all things better. The half that shows me what man is suppose to be. The half that makes the darkness of life not so scary. The half that shines his brilliant light and walks beside me on the dark path of life. Thank you OkCupid for making all my dreams come true.
Tagged as: OkCupid Matches and Weddings.