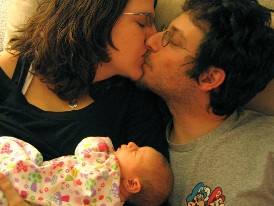 Stevi and Brian
Cupid Baby: The "Oops" Edition
I don't remember how we got started chatting, or how long we did so, but at some point we decided to meet. We met at Cup-A-Joe's coffee shop in Raleigh, and chatted for a little while, took a walk around Hillsborough street, and ended the night with a passionate kiss.

I didn't know immediately that we would fall in love and raise a family, but life has a way of being that way. For our second or third date I drove with him and a friend to DC for a Pearl Jam concert. We had a whole lot of fun, and continued seeing each other, although not seriously for some time. Brian was in grad school, and planned to more back to California upon graduation. I was taking some time to figure out what I wanted in life.

By February of 2006, I was pretty head over heels for him. Still, we both knew our days were numbered and were eager to enjoy ourselves in the mean time. Then life threw a wrench into our plans. After throwing up for a few weeks, I decided I should take a pregnancy test. I was on birth control and fairly sure it would not be positive, but I thought there was no harm in checking. When it time time to read the results, I was too nervous to look. I thrust the test at him, but was still in shock when he said "It says you're pregnant."

We weren't sure how or if it would work, but we decided to try to make things work together, and have shared more happiness than either of us thought was possible. Our daughter is 2 years old now, and the light of our lives. I have never felt more love for Brian than when I see him holding her. I am shocked daily that I could love two people so much, and it only seems to intensify with time.
Tagged as: OkCupid Matches, Blinded with Science, and OkBabies.