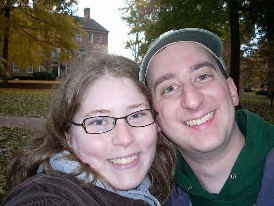 Jessica and Andy
My Quiver Match Was The One
Andy and I first made contact when I was coming to OKCupid to disable match emails. I was going to take a break from dating, but one of my "quiver" matches caught my eye: a guy with a nice smile and kind eyes. I wasn't motivated enough to do anything but "wink" at him, and then I promptly forgot about it. Soon after, the day my dog was put to sleep, I received a message from Andy. He seemed like such a sweet guy, and I really needed a distraction from my sadness. We ended up emailing each other at least once a day for a week, when we finally decided to meet at the zoo.

Andy's social skills on our first and second dates left something to be desired, but there was something about him that made me want to dig deeper and get to know him better. Our fourth date was the best, and it was then that we both realized that this could be something really good.

Fast forward a month, and we were pretty much living together! A year later, and we are engaged, and scheduled to get married in May 2011. We are extremely happy, and I can't believe how such a simple thing of clicking a button led to the love of my life!
Tagged as: OkCupid Matches and Weddings.