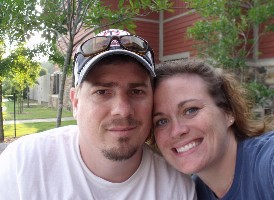 Stacy and Silas
Together Ever Since
We had both tried other dating sites in the past...with no luck. A friend referred Silas to OkCupid and he decided to give it a try. Stacy had decided to hang up her on-line dating hat after some miserable experiences. A friend referred her to OkCupid after HIS successful match and actually threatened to fill her profile out for her if she didn't. And so our story begins...

We met on OkCupid in January of 2010. After exchanging emails, IMs and a few phone calls we decided to meet in person at Buffalo Wild Wings. As crazy as it sounds it was 'instant chemistry' and love at first sight. We have virtually been together, with the exception of a few out-of-town work trips, every day since.

On July 4th we spent the day hiking at Mt. Magazine in central Arkansas. After a day of hiking among some of the most beautiful landscapes and scenery around Silas proposed on top of Mt. Magazine just before sunset. We are getting married on March 25, 2011! 249 days and counting! Can't wait!

After many 'not quites' and a couple of 'almosts' we have really found true love thanks to OkCupid.
Tagged as: OkCupid Matches, Almost Gave Up, and Weddings.