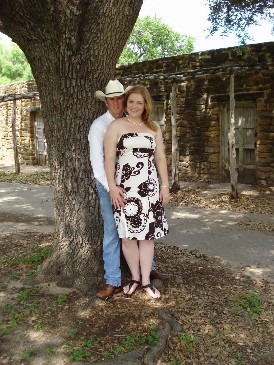 Melinda and Neil
We Balance Each Other
Well I guess most of these stories start with a wink or a message, same is true with this one. We started talking online and soon found out we lived only about two miles away from each other. We met up one night for a beer and I never left. We've lived together for close to 10 months now and are getting married in 17 days! Yes, that right 17 days. Neil and I are similar and yet have different enough personalities to balance each other out. Our engagement night was a bit frustrating for me so I figured I'd share our funny story. I had decided to cook steaks one night in mid-May. I spent a solid hour making homemade whiskey butter for the fore-said steak. Neil came home from work and said he wanted to eat out, as I'm standing in the kitchen with potatoes in the oven and the bbq pit going outside. I got so mad I couldn't cook anymore and gave in and went and changed clothes. We hopped into the car and started driving to a place down the street. When we are almost there he turns the wrong direction towards downtown because he "forgot to go to the ATM" I'm fuming right about now, thinking of my ruined meal at home, and there had to be visible steam coming out of my ears as he drew to a stop in front of the City Courthouse. It was right at sunset and Neil claimed he wanted a picture. He pretty much had to drag me out of the truck at this point. He proceeded to take me to the garden in front of the courthouse and claimed he " loved me enough to take me into the courthouse and marry me right now" He proceeded to get down on one knee and propose. Thank goodness there was a tree behind me because i nearly fainted. It was the last thing i was expecting that night. He proposed using his grandmothers engagement right, something older than the two of us added together and multiplied by two.
Our wedding is August 7, 2010.

Tagged as: OkCupid Matches and Weddings.