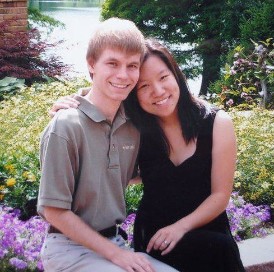 Jason and Olivia
The Mud Led to Love!
We met online when I asked her what martial art she was taking. (I was into Capoeira, and she was taking Aikido and Japanese Jiu Jitsu, although her profile had not stated which art.) We began talking, and quickly found that we had a great deal in common.

As a result, we decided to meet. We went rock climbing for our first date, and had a wonderful time. That date led to a second, and then a third. It was on our third date that I knew I had found something special. We were hiking on a trail and came to a dead end. We were faced with two choices: turn back, or continue through a water filled mud flat to pick up a trail on the other side. Not many women would have picked a hike through the mud, but Olivia did. We had a great time chasing turtles in the mud, and I knew then that we were destined for a great relationship.

We dated seriously for the next year, seeing each other every day for 6-7 hours a day on average. On April 29th, 2010, I got my dream job working at the Zoo in Knoxville, but to do so I would have to leave Olivia. I dreaded the prospect, as I loved her and did not want to leave her without a promise. I proposed to her that night, and she accepted. We will be married as soon as she can find a job and move to the city.
Tagged as: OkCupid Matches, Long Distance Love, Blinded with Science, and Weddings.