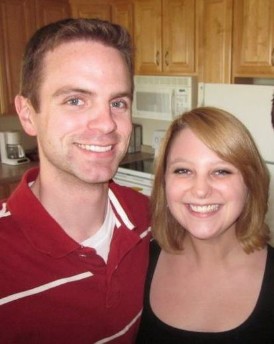 Erika and AJ
Online Dating Totally Worked For Us
I had been doing the online dating thing for a few months before I met AJ. I only had a profile on OkCupid and really only joined because of the quizzes (seriously! Well, also to meet guys). I had chatted with/met a few nice guys on the site, but no sparks. It had been about three months, and I was getting ready to throw in the towel, when one day I signed in and I saw AJ's profile pop up in my new users feed. I made the first move and sent him a message, and then after chatting back and forth for a few days we went to dinner and a movie, and I've been head over heels every day since. He asked me to marry him May 31, 2010 when we went on a trip to Galena, IL, about a year and a half after we first became official. We're getting married March 21, 2011 in St. Lucia! He is the most incredible person I've ever met and we are both so happy we gave OkCupid a shot. At first a lot of our friends/family were surprised that we met online, but it totally worked for us. It takes out a lot of the guesswork in the dating game and let us get to know each other on a real level.

This site is fantastic and to this day I am still amazed at how everything turned out. Thanks OkCupid!
Tagged as: OkCupid Matches, Almost Gave Up, and Weddings.